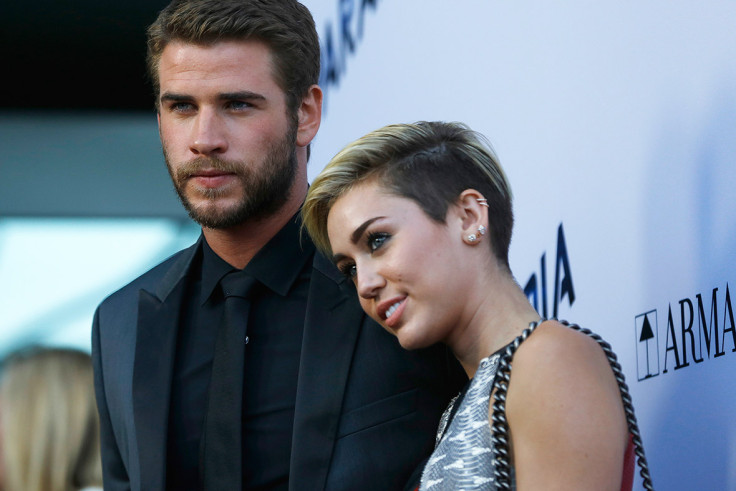 Liam Hemsworth has put paid to rumours that his relationship with Miley Cyrus is on the rocks. In an interview with Entertainment Today, the Hunger Games actor said that while he doesn't like to discuss his personal life, he is "happy."
"I just find it's easier to not talk about my personal life because usually I say the wrong thing, so it ends up just complicating things more," said the 26-year-old star. "So, I feel like it's better not to talk about it."
Pushed on his relationship with the Wrecking Ball singer, Liam told ET simply: "Everyone's happy. I'm happy. Yeah." However, the actor stopped short of addressing reports that the couple is engaged amid speculation that Miley is planning a summer wedding.
The former Disney star was recently spotted flashing her Neil Lane diamond engagement ring, originally given to her by the Independence Day actor in 2012, fueling rumours that they might soon walk down the aisle. However, in an earlier interview, when asked about his plans to tie the knot, Liam said: "There's no news there that you should know about, no."
While marriage may not yet be on the cards for the A-list stars, their on-off relationship appears to be on an even keel. The couple, who rekindled their romance in December 2015, were spotted holding hands as they returned to LA after a break in Liam's native Australia. During the trip, Miley was seen bonding with Liam's sister-in-law Elsa Pataky, after the pair had matching wave tattoos done.
The 22-year-old has reportedly given up her wild child ways, cutting down on her marijuana usage and giving up her party lifestyle to keep Liam happy. The pair even skipped out on the Met Gala, as Miley demonstrated that she wants to make Liam a priority in her life.
And while Liam is staying tight-lipped on the engagement rumours, the pop star apparently has a different take on their relationship. According to Hollywood Life a source said: "Miley feels that they are engaged and will get married, Liam is happy as well in the relationship but he believes that he would have to ask for her hand in marriage again to make it official again. He is more traditional, where Miley is resorting back to the relationship they had before they broke up. So it really depends on who you ask, he didn't mean it as a diss towards Miley. They just have different ideas where they officially stand right now," the insider adds.
In the meantime, Miley is doing her best to win over Liam's family and she appears to have even bonded with her boyfriend's beloved dog. The singer, who helped him adopt the pet last November from an animal rescue organization in Los Angeles, posted a photo of her snuggling up to Dora.