Can Nick Clegg have anything left to say, or any fresh jeans to wear at his annual conference?
It may only be the third day of the longest of all the big party conferences but he has already appeared more times than all the other leaders managed at their rallies, put together.
He started with the traditional leader's interview with Andrew Marr, addressed an opening rally, carried out around a dozen media interviews and held an hour-long question and answer session with the party faithful – who proved just how faithful they really are.
Heaven knows how many other appearances he can squeeze in before his big end-of-conference speech on Wednesday 8 October. Signing election manifesto pledges perhaps. On second thoughts, perhaps not.
And that speech will have to be pretty special if it is to contain anything new or outdo the passion with which he has already trashed the Tories and Labour.
It was all understandable when the Liberal Democrats were the also-rans, the "don't forget us" party, which everyone still forgot about and whose leader they could never quite name.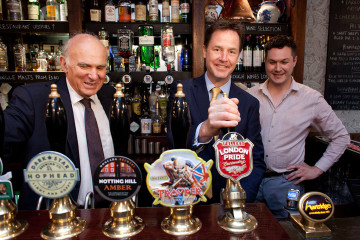 The longer the annual conference was and the more leader appearances there were, the more chance somebody might notice.
But everyone now knows exactly who the Lib Dems are and that their leader is the deputy prime minister. They are the other lot running the country alongside the Conservatives, who they hate.
After that experience you might think they would want to keep their heads down. But none of it.
The conference is still the longest by at least a day and Nick Clegg is everywhere and is already running out of things to grab the media's attention.
The most talked about element of his question and answer session on Monday 6 October was the fact he had deliberately dressed down – open neck shirt and chinos. Yet on Sunday 5 October, he had worn a suit and tie when appearing before Marr.
But there's more. It was pointed out that he had been wearing different casual clobber earlier on Monday. Yes, he had done a costume change.
Perhaps all that running around had left him less than fragrant. And we all know what it's like – you change your shirt but that destroys the colour coordination so new jeans are called for... It's a nightmare.
I wonder what he will wear on Wednesday. Alright, no I don't.