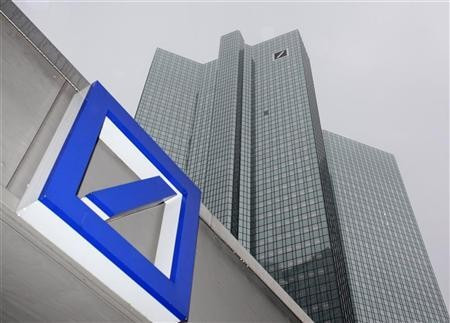 Deutsche Bank has started to question around 50 employees, as part of its internal investigation, into whether the benchmark interbank lending rate Libor was rigged.
According to a report by German newspaper Handelsblatt, the staff which are being questioned are being allowed to bring lawyers or witnesses to the talks, following a probe by auditor Ernst & Young (E&Y).
E&Y has conducted an investigation into potential Libor fixing over the past two months by checking emails and conversations in electronic chatrooms for irregularities.
Deutsche Bank declined to comment.
In January this year, Deutsche Bank confirmed to IBTimes UK that has been co-operating with the Federal Financial Supervisory Authority (BaFin) over a number of probes, including another ongoing investigation into the possible rigging of another major interbank lending rate Libor.
"[Since] July 2012 Deutsche Bank has received requests for information from regulators in connection with setting interbank offered rates for various currencies. Deutsche Bank is co-operating with these investigations," said the spokesperson at the time.
Libor valuations directly influence the value of trillions of dollars of financial deals between banks and other institutions.
The benchmark reference rates are used in euro, US dollar and British sterling over-the-counter (OTC) interest rate derivatives contracts and exchange traded interest rate contracts.
Libor Fixing Scandal Heats Up
In August this year, BaFin submitted a report to Deutsche Bank over its role into the possible manipulation in one of the world's most important interbank lending rates Libor.
While it found no evidence of wrongdoing on the part of members of the management board but will continue 'aspects of its probe' into Deutsche Bank and more than a dozen other banks.
In June last year, Barclays became the first bank to settle with US and UK authorities for a record £290m ($456m, €340m) fine for the manipulation of Libor and Euribor.
In December, UBS became the second bank to settle with authorities, for $1.5bn, over its role in Libor manipulation and admitted to one criminal charge of wire fraud.
In February this year, RBS agreed to pay £390m to settle US and UK charges related to the manipulation of the benchmark lending rate known as Libor, as well as pleading guilty to a criminal charge of wire fraud from a Japanese subsidiary.
In September this year, the US Commodity Futures Trading Commission and Britain's Financial Conduct Authority fined the world's largest interdealer brokerage Icap for its role in the manipulation of the interbank lending rate Libor.
Icap will pay £14m to the FCA and £41m to the CFTC after a significant number of brokers, including two managers, attempted to rig rates between October 2006 and November 2010.