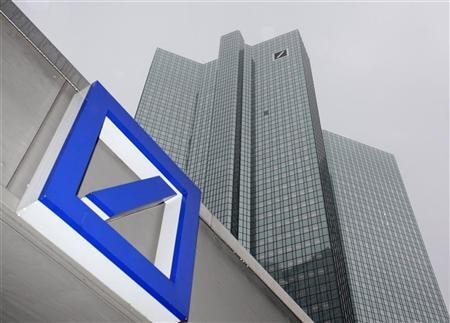 Germany's top financial regulator is investigating Deutsche Bank and three other lenders into the possible manipulation of one of the world's most important interbank lending rates Euribor.
Deutsche Bank confirmed to IBTimes UK that has been co-operating with the Federal Financial Supervisory Authority (BaFin) over a number of probes, including another ongoing investigation into the possible rigging of another major interbank lending rate Libor.
"[Since] July 2012 Deutsche Bank has received requests for information from regulators in connection with setting interbank offered rates for various currencies. Deutsche Bank is co-operating with these investigations," says the spokesperson.
According to a report by German newspaper Sueddeutsche Zeitung, three other lenders are also under a BaFin investigation into the possible rigging of Euribor.
Citing unnamed sources, the paper identified Portigon, which is last unit remaining from the breakup of a previously large West German state commercial bank WestLB, as another lender being investigated by BaFin.
Portigon declined to comment and BaFin had not returned communication from IBTimes UK by the time this article was published.
Currently, more than 40 banks still contribute to setting the Euribor inter-bank lending rate, but some institutions are withdrawing from this task.
Earlier this month German bank BayernLB revealed it had withdrawn from the Euribor panel from the beginning of this year for "strategic reasons" and the Euribor-EBF group running the Euribor setting process warned that more could leave following recent bad publicity.
In June last year, Barclays became the first bank to settle with US and UK authorities for a record £290m ($456m / €340m) fine for the manipulation of Libor and Euribor.
In December, UBS became the second bank to settle with authorities, for $1.5bn, over its role in Libor manipulation and admitted to one criminal charge of wire fraud.
Meanwhile, markets are anticipating that RBS is close to settling with authorities over its role in the possible fixing of key interbank lending rates.
Since June last year, dozens of banks across the world have fallen under investigation for the possible rigging and collusion to manipulate global interbank offered rates, including Libor, Euribor, Tibor and Sibor.
However, IBTimes UK reported that due to the number of investigations across various jurisdictions and complexity of the level of involvement each bank is being investigated for, it is not possible for banks and / or brokers to join forces to collectively settle.
Deutsche Bank: Multiple Investigations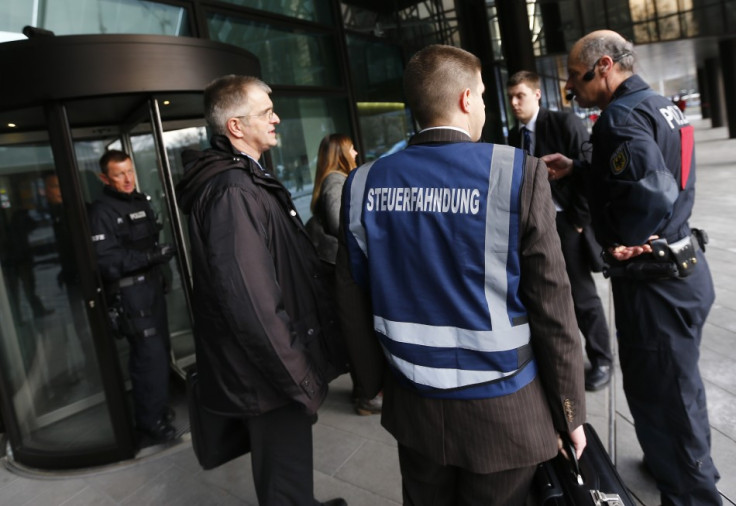 Deutsche Bank is facing a number of investigations across a number of issues.
In conjunction with a number of other banks being investigated for the possible manipulation of Libor and Euribor, it is also conducting its own internal review, which has already found that "two former traders may have been involved in colluding to manipulate global benchmark interest rates."
Meanwhile, BaFin also launched another probe into Deutsche Bank and 22 other banks' pay policies, in order to determine whether they had implemented the strict bonus rules that the country imposed in 2010.
Elsewhere, Deutsche Bank and a number of its senior executives, including co-chief executive officer Juergen Fitschen and chief financial officer Stefan Krause, are under investigation into a tax evasion scheme involving the trading the trading of carbon permits.
The probe is believed to be connected value-added-tax (VAT) 'carousel fraud', where goods were imported VAT-free then sold on to domestic buyers at a price that includes VAT.
Deutsche Bank said in a statement to IBTimes UK that Fitschen and Krause "are involved in the investigations, as they signed the VAT statement for 2009. The bank corrected this a long time ago voluntarily. Unlike the Public Prosecutor's Office, Deutsche Bank is of the opinion that this correction took place in due time."
Meanwhile, Deutsche Bank is appealing against the Italian government's ruling that the bank, as well as JP Morgan, UBS and Depfa Bank, were guilty of mis-selling the Milan City Council an interest rate swap that lost it millions of euros in payments.
In what is believed to be a landmark criminal case in Europe, the litigation, dubbed the 'Milan Derivatives Inquisition,' found the four banks guilty of "aggravated fraud for mis-selling derivatives to the city of Milan" and fined each institution €1m ($1.3m / £800,000) and ordered a "total seizure of €87m."
In addition, nine bank employees were handed suspended jail sentences of up to eight months
Deutsche Bank said it believed it had done nothing wrong and would appeal against the ruling.