The Libyan army has discovered 40 decapitated heads while combing the area of Bouatni in Benghazi, days after it seized back a military base in the Libyan city from Islamist fighters.
The decomposed heads have been put in refrigerators to allow medical tests for identification, according to a report on Libyan newspaper Qurynan. It is unclear if the incident is related to recent fighting or dates back to the Muammar Gaddafi era.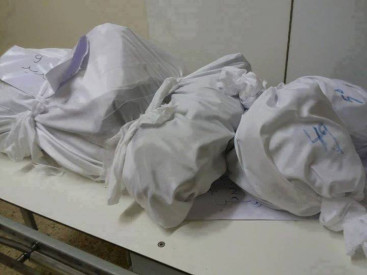 The country's special forces, supported by general Khalifa Haftar, attacked Islamists in the city in mid-October with the purpose to retake it after Benghazi fell to militants last summer. The Libyan troops conquered the army camp, on a road to the airport outside Benghazi and nearby offices belonging to state mobile operator al-Madar.
But fighting against Islamist forces is still ongoing in other parts of the country, with the Islamic State (Isis) claiming attacks on institutions and the army.
Last month, IS-linked members launched an assault at a luxury hotel in Tripoli, killing three security guards, five foreigners and a hostage.
More recently, a local radio in Sirte was stormed by IS supporters and started broadcasting the group's propaganda, according to reports.
A report on the IS English-language magazine, Dabiq, also allegedly showed pictures of 21 Coptic Egyptian who were kidnapped by IS-linked militants in December. The kidnapped Egyptians are pictured in orange jumpsuits and handcuffed while they are being escorted by black-clad and knife-wielding militants in a Libyan beach near Tripoli.
The report says the men, called "Coptic crusaders" have been abducted to avenge the purported kidnapping of Muslim women by the Egyptian Orthodox church.