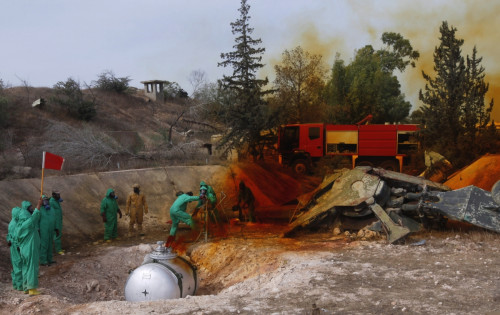 Libya said it has destroyed the last stockpile of chemical weapons inherited from the regime of dictator Muammar Gaddafi.
The country's Foreign Minister Mohamed Abdelaziz said the government has eliminated the chemical arsenal which includes bombs and mustard gas-filled artillery shells, under the Chemical Weapons Convention.
"Libya has become totally free of usable chemical weapons that might present a potential threat to the security of local communities, the environment and neighbouring areas," Abdelaziz said in a ceremony to mark the occasion in Libyan capital Tripoli.
The event was attended by the chief of the Organisation for the Prohibition of Chemical Weapons (OPCW) Ahmet Uzumcu.
Abdelaziz went on: "This achievement would not have been possible in such a short time, without concerted efforts within an international partnership, or without the logistical support and the technical assistance from Canada, Germany and the USA, which provided the opportunity to use very advanced, safe and reliable technology."
Good example
Tripoli inked the agreement to destroy chemical weapons under Gaddafi's rule in 2004 in return for improved ties with the Western world. At that time, the country had possessed 1,400 metric tons of precursor chemicals, 3,500 unfilled aerial bombs, which were specifically designed to launch chemical weapons, and 25 metric tons of sulphur mustard.
Although officials had begun the elimination process in the Gaddafi era, it was briefly interrupted by the bloody civil war in 2011 which culminated in the death of the dictator.
Following the conflict, the disarmament process, overseen by OPCW, recommenced in 2012.
The OPCW head said in the ceremony Libya had provided a "good example of international cooperation now emulated in Syria on a larger scale."
The international body currently supervises the unprecedented task of eliminating chemical weapons from Syria.
The final set of weapons in Libya was destroyed over a three-month period, with the final artillery shell being disarmed on 26 January. The entire process was kept discreet.
"This is the culmination of a major international effort to eliminate weapons of mass destruction from Libya and to ensure that they never fall into the hands of terrorists," said Andrew Weber, US assistant secretary of defence for nuclear, chemical and biological defence programmes, according to the New York Times.