Two Italian construction workers, Gino Pollicardo and Filippo Calcagno, have been released by their kidnappers in the Isalmic State hotspot of Sabratha. Two of the pair's colleagues were recently reported killed in the town on the Libyan coast.
The Italian newspaper La Stampa reported Pollicardo and Calcagno had been released and were in good health, according to local sources.
In a statement proving their freedom and published by Sabratha Media Centre, Pollicardo has said: "I am Gino Pollicardo and with my colleague Filippo Calcagno today, 5 March 2016, we are free. We are moderately well physically but psycolocycally devastated. We urgently need to be returned to Italy."
Prior to news of their release the Italian news agency Ansa quoted a government official with knowledge of intelligence operations in Libya as saying: "They are alive and our current priority is to save them."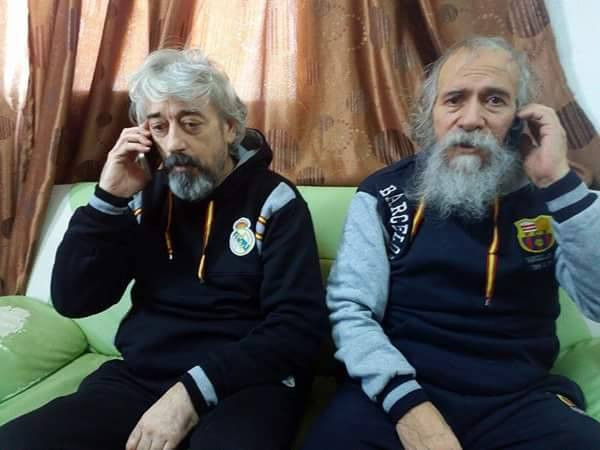 Reports of Pollicardo and Calcagno's release come less than 24 hours after Italian authorities reported the likely deaths of their Italian construction company Bonatti colleagues Fausto Piano and Salvatore Failla.
"Their families have been informed," the ministry said in a statement, adding the information was still being verified but the process was difficult as authorities have no access to the bodies.
All four of the Italian nationals were kidnapped from the Mellitah oil and gas installation in July of last year.
At the time the Italian government said it believed the kidnapping to be related to extortion rather than by IS (Isis/Daesh) or other ideologically motivated groups operating in the North African country.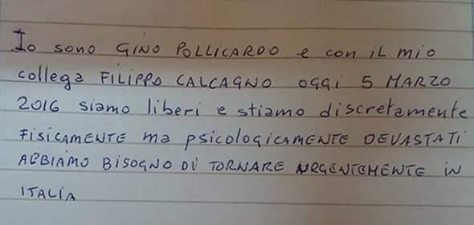 The offshoot of IS in Libya beheaded 12 security officials in Sabratha on 24 February and also killed seven others, following heavy clashes in the coastal town.
IS forces were pushed back, but only after they had exacted their grisly revenge on the town's security forces, apparently in retaliation against US air strikes on Qasr Talil that killed at least 30 Daesh fighters.
The bombing targeted Tunisian national Noureddine Chouchane, who helped organise the Sousse beach massacre and the Bardo Museum attack. Two Serbian diplomats, also held hostage, were believed to have been killed in the same air strikes.