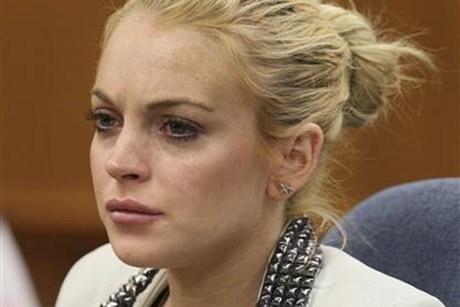 Lindsay Lohan has found herself on the wrong side of the law again after she was arrested for allegedly punching a woman in the face at New York nightclub.
The 26-year-old Mean Girls star was apparently partying with friends at Club Avenue when she got into a violent altercation with a female partygoer.
A NYPD spokesman told Fox News that the pair who had been seated in booths near each other had exchanged insults before the fight broke out.
Witnesses at the scene told TMZ.com that they heard the actress tell the unidentified woman to, "Give me my space."
Law enforcement were called to the club around 4am and Lohan was taken to a nearby police station. She is currently still in custody.
Her club scuffle is just the latest in a long list of legal woes for the former child star.
In addition to being already under probation for her previous jewellery theft charges, she is also in trouble after lying to police when her Porsche was involved in a car accident with a truck in June.
Lohan recently blamed her constant run-ins with the law on her "loneliness" and the involvement of "sycophants".
"Kids go through ups and downs, try drugs, cigarettes and drinking. It's human nature," she told Us Weekly.
"It took a while but it's like "What was I thinking? Why did I allow so many sycophants and bad influences to be around me?"
Despite being arrested for drink, drug and driving offences - and jailed six times, she insisted that she was turning her life around.
"I was lonely and didn't realise it. That's why I came back home to New York. I never feel lonely there. I see my family and have really good people in my life," she said.