LinkedIn is overhauling the hiring process on its site and has launched a new tool called "Referrals" and has updated "Recruiter". Both the products would boost the professional social networking platform that already has more than 380 million users across the globe.
The first product that the company showcased at its Talent Connect annual conference held from 13-15 October in Los Angeles was Referrals. As its name suggests, the new product works as a simple solution for employers to get quality referrals. This also helps in unlocking employees' network to easily add employee referrals.
Citing an internal survey, LinkedIn has said that about 80% of recruiters consider referrals as the source to recruit quality candidates for their empty positions. This has given the company a reason to develop the new products, which will be available as an extension to the profession-oriented social networking site. The new product is designed using resources from the recently acquired employee referral site Careerify.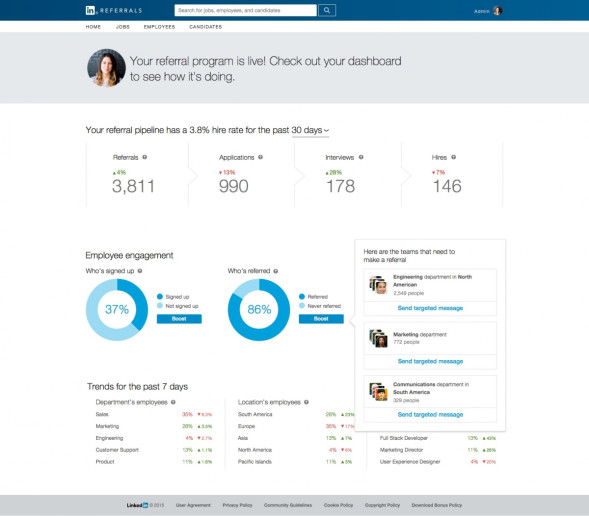 LinkedIn Referrals directly imports all currently listed job openings from the company's applicant tracking system (ATS) to let employers find the best match for their openings. Similar to search engines, there is an algorithm that not only provides customised results, but also learns the employers' behaviour to improve recommendations.
From the employees' side, they can use Referrals to know about which of their first-degree connections are fit for the current job openings. Notifications can be sent by them to candidates in three different ways -- InMail invite, job description link via email or a preset email directly from LinkedIn. Once the notification is received, candidates need to hit "apply now" to directly apply for the opening.
Updated LinkedIn Recruiter
Apart from Referrals, LinkedIn has an updated Recruiter that ease employers to find suitable candidates. There are filters such as job titles, location, skills, education and keywords that help in finding the best matches. Also, employers can use target names of their existing employees to let the system analyse the profiles and bring out the closest desired results.
The updated Recruiter additionally comes with the Spotlight feature to list results that have first-degree LinkedIn connections with an existing employee, using the company's brand in their LinkedIn profile or even "likes" or "comments".
Referrals would start rolling out within LinkedIn starting 1 November and charges will be applicable between $10 (£6) to $12 per employee, while Recruiter will be available sometime in the first quarter of next year. The company is also planning to integrate Referrals into Recruiter, but more details would to be revealed following their initial roll-out.