Lionel Messi 'got mad' at hopelessly drunk Aguero after World Cup win
Aguero was not part of the Argentina squad but was at the centre of all the celebrations.
There is no doubt that former Argentina international Sergio Aguero was the life of the party when the team won the 2022 FIFA World Cup. He has now come out to admit that he angered his close friend and national team captain Lionel Messi for becoming too drunk during the celebrations.
Aguero was not part of the Argentina squad due mostly to the fact that he suffered a cardiac arrythmia that forced him to announce his early retirement in December 2021. Argentina players and their fans knew that had he been fit to play, he would almost certainly have been part of the World Cup squad and took no issue when he played a major role in the victory celebrations.
Aguero was seen in numerous photos and videos from the pitch as well as the dressing room, wherein he was dancing and celebrating with the squad. He also shared photos of himself with the golden World Cup trophy. An iconic scene showed him carrying Messi on his shoulders as the latter held the trophy to recreate Argentina legend Diego Maradona's own World Cup victory pose.
However, in a recent Twitch stream, Aguero shared that he got a little carried away and drank too much during the party. He said that Messi even got mad at him for going overboard, particularly due to his heart condition.
"I drank a lot, but I wasn't eating, that's why it hit me, we were world champions, if something had to happen to me, why not there in Qatar?," he said, as if admitting that he had become careless about his own well-being.
"At one point, Leo got angry and told me 'stop'. What do you mean, stop? We are world champions. I was so good, so happy, that I think my heart was perfect," he said, confirming that he felt invincible despite his heart condition. However, he admitted that the alcohol really got to him. "Because I was happy, the alcohol hit me twice."
Hilariously, Aguero also admitted that he almost threw out his back when he lifted Messi up to parade him around the stadium. "My back hurt a lot, when I lifted it I said: 'S***, it's heavy'. On top of that, 'Muchachos' was playing and I was moving my shoulders so that he would jump, but I started to feel some stitches in my back.
He said that Messi read the situation after the two of them exchanged a look. The PSG forward then got off his friend's back before any serious damage occurred. Apart from Messi, Aguero also said that the golden trophy itself was quite heavy.
In excerpts from the stream shared by Marca, Aguero even admitted that in his excitement, he almost left his son in Qatar as he rushed to join the players on the plane back to Argentina.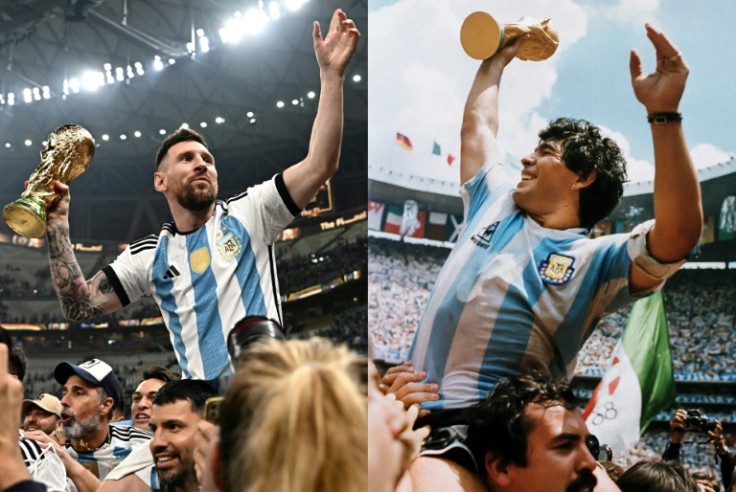 © Copyright IBTimes 2023. All rights reserved.