Barcelona's Lionel Messi crowned an outstanding 2012 by winning a record fourth consecutive Ballon d'Or award ahead of teammate Andres Iniesta and Real Madrid's Cristiano Ronaldo.
Messi won with 41.6% of the vote after scoring a record 91 goals in the calendar year and becoming Barcelona's record goalscorer, ahead of Ronaldo in second, who won the La Liga title with Madrid and Iniesta who claimed the European Championship with Spain, in third.
After winning the prize in 2009, 2010 and 2011, the Argentine forward becomes the first ever player to win the prestigious award on four separate occasions ahead of three-time winners Johan Cruyff, Michel Platini and Marco van Basten.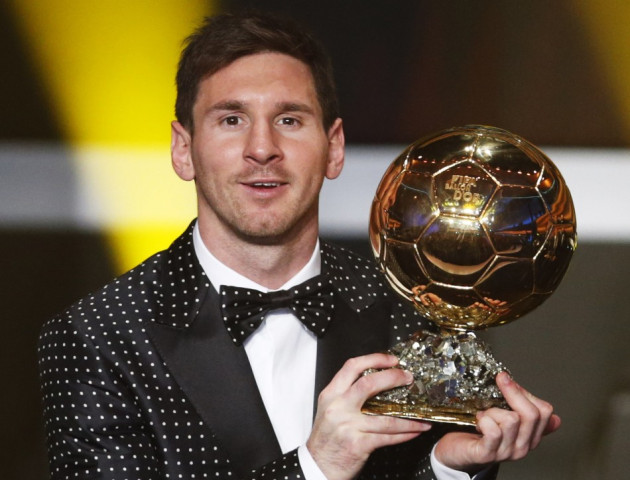 "To tell you the truth this is really quite unbelieavable," Messi, who beat Gurd Muller's record for the most goals in a calender year, said. The fourth award that I have had is just too great for words.
"I would like to recognise my other colleagues from Barcelona: Iniesta it has been great to train and play alongside you.
"I would also like to recognise all of my friends in the Argentinian national team.
"Everyone that has worked with me coaches and staff and my family and my friends. Also my wife and my son. Thank you."
Xavi, the Barca midfielder, finshed fourth with Radamel Falcao in fifth, Spain and Real Madrid captain Iker Casillas in sixth and Juventus's Italian internatonal Andrea Pirlo in eighth.
Didier Drogba was the highest ranked player to have played in the Premier League in 2012 in eighth, while the PFA Player of the Year Robin van Persie came in ninth position.
Manchester City trio Yaya Toure, Sergio Aguero and Mario Balotelli all featured in the top 23 while Wayne Rooney was the only English player to make the final shortlist.
On an evening dominated by La Liga, the FIFA FIFPro World XI was made up entirely of players from the Spanish top flight, with Atletico Madrid forward Falcao the only player included not to play for either Real Madrid or Barcelona.
Vicente del Bosque, who guided Spain to victory at Euro 2012 - the country's third consecutive major trophy success - won the coach of the year award ahead of Pep Guardiola and Jose Mourinho.
"It is a great privilege to be involved with the Spanish Football Federation, the technical staff and coaches," Del Bosque said.
"I would like to remember all of the coaches I had in my time who were part of my education.
"We all want to win, but we are all called upon to protect football and its image and compete with great ethical behaviour," he added.
Fenerbahce's Miroslav Stoch claimed the Pukas award for the best goal of 2012 beating off competition from Falcao and Brazilian superstar Neymar.
FIFA/FIFPro World XI: Iker Casillas, Dani Alves, Gerard Pique, Sergio Ramos, Marcelo, Xabi Alonso, Xavi, Iniesta, Messi, Falcao, Ronaldo.