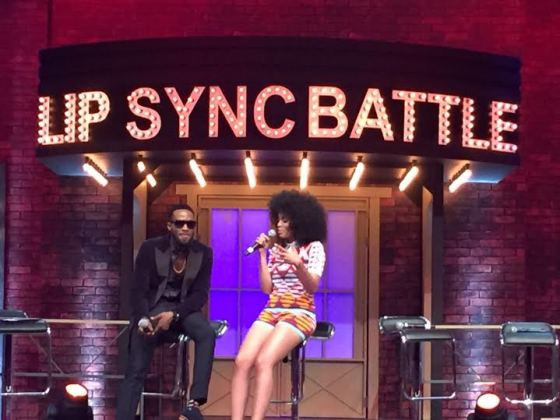 Nigerian singer D'banj and South African actress Pearl Thusi have been announced as the hosts of Lip Sync Battle Africa. The duo are expected to take the helm when the first season of the African version of the hit musical reality show airs in April.
Recorded in Johannesburg, South Africa, the weekly show will take on a similar premise to its US and UK counterparts with vocal showdowns between top celebrities and entertainment figures. The pair are following in the footsteps of US hosts LL Cool J and Chrissy Teigen and UK hosts Mel B and Professor Green.
"For me this is what I do for a living. This time I'll be chilling and enjoying myself in my corner," D'banj said of the new gig. "Watching my colleagues, these are very interesting people, seeing celebrities do what they have never done. It's all about the hosts, contestants, audience and viewers at home. In this current economy we need that kind of fun, to put a smile on your face."
Thusi, whose film credits include Tremors 5: Bloodlines and Zone 14, added that she was looking forward to a new challenge after leaving SABC 1 radio's Friday night music show Live AMP. She said: "I think with the kind of experience that I have had with all the other shows I've done on radio and TV, I really can handle this. I really think I'm fun, smart, sassy and spicy. And the show needs all those stuff."
D'banj catapulted to fame in 2005 following the release of his debut album, No Long Thing. With global hits including Fall In Love and Suddenly, he has often been credited with revolutionising the Nigerian music scene. In 2011, he was named best international act (Africa) at the BET Awards.