Justin Bieber's latest look is a world away from the stylish outfits he sports daily on Instagram, as he channels legendary metal star Ozzy Osbourne in an upcoming episode of Lip Sync Battle.
Judging from the clip released by Spike, the Confident singer hasn't just nailed the Prince of Darkness's looks (complete with long dark wig, trademark rings and plenty of guyliner), it also looks like he has perfectly conveyed his signature mannerisms too – touching his hair and keeping his eyes wide open while singing.
The 21 year old previously worked with the Brummie rocker in 2011, when the duo made the What The F***'s A Bieber Super Bowl advert. Perhaps he got some tips from the heavy metal icon then!
Four days ago, Bieber posted an image of himself wearing an oversized Metallica t-shirt on Instagram. Could that have been a further attempt to get into the character of a heavy metal rocker? From the sneak peak, it certainly looks like has done a lot of research into the genre.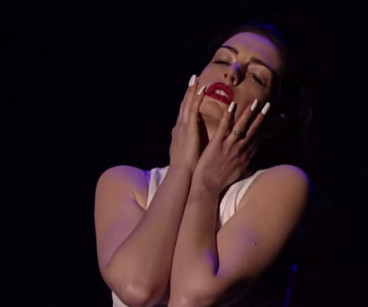 Other celebrities who have taken part in Lip Sync Battle include Dwayne "The Rock" Johnson, who opted to perform Shake It Off by Taylor Swift; Stephen Merchant with a particularly raunchy rendition of Christina Aguilera's Dirrty; and Anne Hathaway, whose depiction of Miley Cyrus singing Wrecking Ball almost broke the internet.
The popular show, hosted by LL Cool J and Chrissy Teigen, officially started in April 2015, but is in fact a spin-off of a comedy bit first introduced on Late Night With Jimmy Fallon way back in 2013.
Raking in 2.2 million viewers during its first episode, the programme earned itself the title of being the highest-rated non-scripted premiere in Spike's history.
Bieber will go up against former American football and baseball player Deion Sanders in the comical competition. Other upcoming episodes in the show's will see Willie Geist face Andy Cohen and Community's Alison Brie take on Arrested Development star Will Arnett. Bieber's episode will air in the US on 16 July on Spike.