A stage invasion is annoying at the best of times but it can be forgiven when the crasher is Beyonce. The Flawless singer gave actor Channing Tatum a huge surprise when she joined him on stage in the latest episode of Lip Sync Battle while he was performing one of her songs.
The Magic Mike actor performed an incredible full choreography to Beyonce's single Run The World (Girls) and even wore an outfit similar to the singer, complete with a black faux fur shawl, bra, shorts and blonde wig. The audience were lapping up Tatum's dance skills when Beyonce appeared on stage and joined him in the routine, leaving his wife Jenna Dewan-Tatum, whom he was competing against, speechless.
At one point, Dewan-Tatum even threw herself to the floor in shock at the surprise guest and her husband told the audience after seeing her reaction: "She is so not OK right now." The 35-year-old actor also dressed up as Queen Elsa from Frozen as he sang Let It Go from the Disney's movie's soundtrack, while Dewan-Tatum gave her husband a lap dance to Ginuwine's Pony, which Tatum famously performs in the Magic Mike films.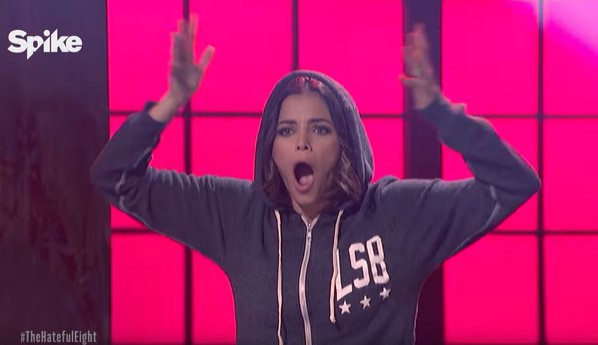 Teasing the husband-and-wife battle in the trailer of the Tatum versus Tatum episode, host LL Cool J said: "This is a once in a lifetime match-up. 'We are breaking all the rules." Tatum joked: "I just really hope our marriage isn't over after tonight. We're a house divided at the moment. We're going to war."
Although Tatum may have won in the eyes of the viewers thanks to Beyonce's surprise appearance, LL Cool J declared the spouses co-champions. After the episode aired in the US on 7 January, Dewan-Tatum, 35, tweeted: "Got to give it up to my go-hard husband. That was epic. Buuuuut seriously- I'm sleeping with the belt tonight."
The Tatum battle will air in the UK on Spike at 10pm on 14 January while the UK version of Lip Sync Battle begins on 8 January at 10pm on Channel 5.
Watch Beyonce and Channing Tatum on Lip Sync Battle: