Beyonce and Jay-Z have a mini superstar in the making in their daughter Blue Ivy. The five-year-old can be heard freestyle rapping on a leaked track from her father's new album 4:44 and the tot's talents have won her rave reviews.
Titled Blue's Freestyle/We Family, the song is thought to be a bonus track from the physical CD release of 4:44 which is set to arrive on 7 July, a week after the album was made available on Jay-Z's streaming service Tidal.
Although some of the lyrics are indecipherable, Blue Ivy gives it her best shot and appears to rap over a drum-led beat with female vocals: "Everything, everything is my only single thing/ Everything I hear is my answer/ I never hear that, I be in the posse/ Never seen a ceiling in my whole life."
She continues: "Never seem to see them, in my whole life/ Everything I see in them, everything is rotten/ Boom shakalaka, boom shakalaka/ Everything in shaka, everything in faka. Everything in shaka, everything in faka."
Blue Ivy has become a trending topic on Twitter with the BeyHive applauding her efforts, including one who claimed the youngster is competition for Nicki Minaj, writing: "Yuhhh my girl blue blue coming for nicki's crownnnn."
Another impressed listener enthused: "Blue Ivy out here ending rap careers before she hit 1st grade!"
Listen to Blue Ivy rapping:
Although struggling to understand the lyrics, a third commented: "Don't know what she's saying but I'm pretty sure it's a bop."
Referencing Blue Ivy's privileged upbringing under music's power couple, one other quipped: "That's profound, she will never have to see a glass ceiling ever. She has made it."
It is not the first time Blue Ivy has appeared in her father's music. In January 2012, just two days after she was born, Blue Ivy's cries were featured on Jay-Z's emotional track Glory. The track reached number 23 in the US making Blue Ivy the youngest person to appear on a Billboard chart.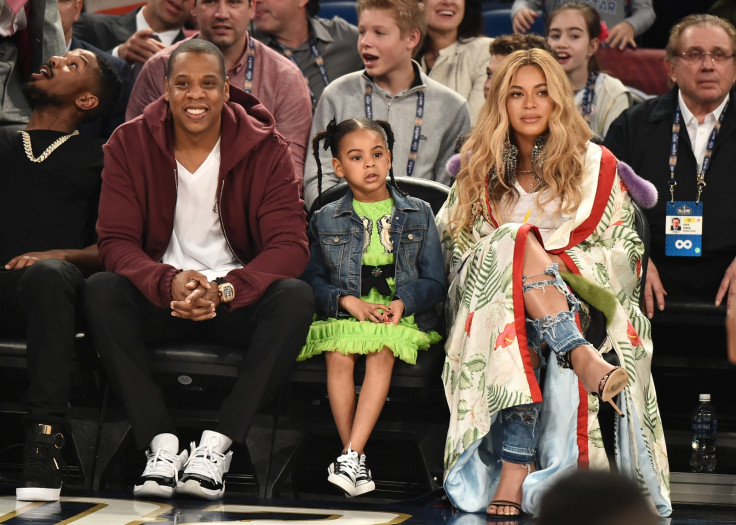 Beyonce and Jay-Z's eldest child is turning into quite the performer as footage surfaced in May of the youngster on-stage at a ballet recital. Alongside her classmates, Blue Ivy is seen twirling to Earth, Wind & Fire's September, clearly inheriting her mother's stage presence.
Jay-Z's 13th album has hit the ground running with the 47-year-old rapper receiving a platinum certification plaque after reaching the one million sales mark in one week.
It remains to be seen whether Beyonce and Jay-Z's newborn twins, Rumi and Sir Carter, will make an appearance on their father's next album.