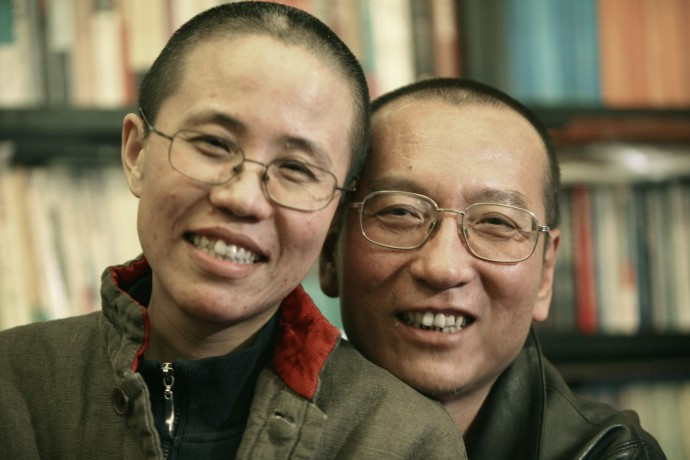 The political activist was jailed for 11 years in 2009 for "inciting subversion of state power" after he helped write 'Charter 08', which called for an overhaul of the Chinese political system. This included an independent legal system and the elimination of one-party rule.
Liu, 61, was awarded the Nobel Peace Prize in 2010 for his "long and non-violent struggle for fundamental human rights in China".
He was moved from prison to the hospital in Shenyang following his cancer diagnosis.
Doctors said that his tumours have grown and that his liver is bleeding. His condition means he cannot undergo radiotherapy treatment and is not fit for travel.
However, a German and US doctor who visited Liu in hospital on Sunday (9 July) said that he could safely be moved abroad for treatment.
Sophie Richardson, China director at Human Rights Watch, told IBTimes UK that the foreign doctors were providing "objective medical advice" as opposed to a "politically manipulated" medical report.
She said the discrepancy between the medical reports indicated that "Chinese authorities are manipulating medical evidence for their political ends".
The EU and UK has called on China to free the dying dissident and allow him to access "treatment of his choice wherever he wants".
"We continue to urge the Chinese authorities to ensure Liu Xiaobo has access to his choice of medical treatment, in a location of his choice, and to lift all restrictions on him and his wife Liu Xia," a spokesperson for the British Embassy in Beijing said.
The Chinese government has placed guards on Liu's wards and only allows his doctors and family to visit him.
Prominent activists, including Chinese artist Ai Weiwei, have called for Liu's release.
"Liu Xiaobo should be a free man. The government should just release him and have a better record – because this is going to be remembered by the whole world... what they are doing," the artist said.
"They [must] admit that this was a horrible mistake ... to sacrifice the best people in this nation – the best minds in this nation – and to put them in such a horrible situation. That is what they continue to do now and it is unacceptable," he added.