Cristiano Ronaldo wins Fifa Ballon d'Or 2013 As It Happened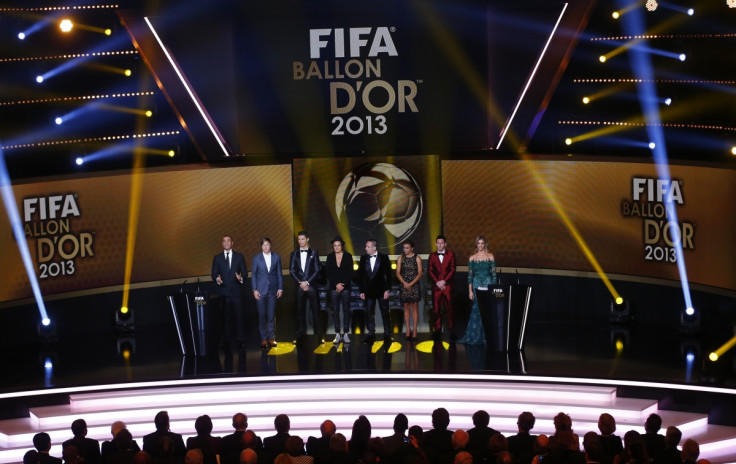 19:11: So that's that. Cristiano Ronaldo is crowned the best player in the world for 2014. Clearly, a huge weight off his shoulders after four years of dominance from Lionel Messi. Here is the full story from the evening.
That's about all we've for time for this evening. Thank you for joining me. Vanessa Keller has coverage of Aston Villa v Arsenal in a jiffy but until then, goodbye.
19:08: A very emotional Ronaldo says: "First of all I have to say a great thanks to all of my team-mates with the club and the national team. Without all of their efforts this would not have been possible. I am very happy, it is very difficult to win this award.
"Everybody that has been involved with me on a personal level I have to thank. My wife, my friends, my son. It is a tremendously emotional moment. All I can say is thank you to everybody that has been involved."
19:02: Cristiano Ronaldo wins 2013 Fifa Ballon d'Or

19:00: Nearly there......

18:57: Nadine Angerer wins the women's world player of the year.

18:56: We're not far away now. The contenders for the women's Ballon d'Or are being assessed by two-time winner Mia Hamm.

18:54: In all seriousness, the award recognises Pele as a would-be Ballon d'Or winner. When Pele was playing of course, South American players weren't included in the voting process. About time. Hope a few more players get similar treatment.
Pele: "I promised to my family that I would not cry but I am emotional. First of all I have to thank God for giving me the health to play so many years.
"Of course I did not play alone. When we talk about my friends people remember the players but we don't have to forget the guy who cleaned the shoes, the masseur - I had a lot of good people on my side. I have to share with them all this trophy.
"I got so many trophies and prizes but I was jealous because all of those guys who got the Ballon d'Or, which I couldn't get because I didn't play in Europe. Now I thank God that I can complete my trophies at home."
18:50: Standing ovation for Pele, who is reduced to tears. I'm not sure why. He hasn't just got all five top answers on the Famil Fortunes. Now another video heralding his achievements. He scored some goals.
18:47: Blatter is back. He's on stage to announce the winner of the first ever FIFA Ballon d'Or Prix d'Honneur. The Swiss president say the award goes to "the greatest footballer to grace the pitch". Pele, clapping himself on stage again, is the winner.
18:41: Ibrahimovic: "I am very proud to be here tonight and I'd like to congratulate all the other nominees. Good luck to the guys for the big award later. I want to thank all the people who voted."

18:41: The winner is Zlatan Ibrahimovic for his goal against England. Here's a reminder:
18:38: Ok so we're moving again and over to the Puskas award for the best goal of the year, or voting period. Zlatan Ibrahimovic, Neymar and Nemanja Matic are the contenders.
18:36: The fair play award has been given to the Afghanistan Football Federation. Nice recognition for a country in strife.
18:32: Tokyo Sexwale alert. Tokyo Sexwale, the head of Fifa's fair play committee, is on stage wearing a shirt and trousers. Not exactly within the
black tie dress code. Looks like he's off to DJ an under-18's disco.
Our friend Tokyo is of course the man who helped Sepp out when he said racism in football could be sorted with a handshake. God bless you.
18:28: If you don't want to know who wins tonight's Ballon d'Or prize, repeat DON'T! Do not click on this link. Meanwhile, Bebeto, in Portuguese, is giving the longest answer to any question ever. Most of the crowd, Messi and Ronaldo included, are laughing at his expence.
18:25: So another advert for Fifa's primary revenue stream, the World Cup. Three Brazilian 'legends' on stage. Among them are Pele, who claps himself on stage, Bebeto, who looks like he was wheeled on stage, and Cafu, who seems more intent on exchanging pleasantries with co-host Fernanda Lima than will his political obligations.
18:17: A musical break? I wanted to be tucked up in bed by 8pm. With only half the award winners announced we're seemingly no closer to learning who will be crowned the Ballon d'Or winner of 2013. Anyone who thought this evening would go any differently is lying.
18:13: Heynckes of course orchestrated the first treble in German football history and was replaced by Pep Guardiola in the summer.
Upon recieving the award, the German said: "I'm tremendously thankful to be here to pick up this award today. It means a lot to pick up an award right at the end of my career.
"Normally in team sports it is often difficult to put things together like this. It isn't just down to me this is down to the whole club, Bayern Munich, everybody that has been working with me during this period.
"We have been blessed with world class players and they produced amazing performances. The coaching staff have also lent their weight. I want to thank everybody that has pulled together and helped me to produce this winning team.
"Maybe ten years ago, I wouldn't even have dreamt of this. I am humbled and happy to be standing here. Thank you very much."
18:10: Hodgson is staying put to award the men's coach of the year. Unsurprisingly, Jupp Heynckes - a treble winner with Bayern Munich - is the winner. Sir Alex Ferguson and Jurgen Klopp were the other finalists.

18:08: England manager Roy Hodgson is on stage to annouce the women's coach of the year winner, which goes to Germany coach Silvia Neid.
18:07: Now something that Fifa don't do that often, something nice. A compilation video to pay tribute to Eusebio who passed away on 5 January.
18:03: A break in the awards and over to an advert for the Brazil 2014 World Cup. Adriana Lima, Ronaldo and Neymar (who is introduced as a player to beat the former's all-time World Cup finals scoring record) are all on stage. Very Fifa this.
17:54: While Rogge rambles on, let us retreat to the announcement of the Fifa World XI which doesn't include a Premier League player for a second consecutive year. Going back to Rogge, he begins his address by saying he hopes he wins a Laureus Sports Award. Like starting to date a girl by saying you hope you marry her sister. Very nice.
17:51: Blatter on Rogge: "As a keen sportsman, this year's winner knows all about the power that sport has to change lives and to inspire. Born in Belgium and educated in medicine, he found a home on the water as a yachtsman. He became an Olympian, representing Belgium at three Olympic Games. A strong love for rugby union also saw him capped for the Belgian national team."He was elected as the eighth President of the International Olympic Committee in 2001. His visionary and diplomatic approach took the Olympic Games into a new era."
17:49: So Sepp Blatter is on stage to present the Fifa Presidential Award. He could have easily just thought he fancied a chat. As you imagine, he's getting on with it. For those interested, IOC president Jacques Rogge will recieve the award. For his services to football I am guessing.
17:46: Very helpfully every answer given by a player not in English is not translated. Oh, and now Sepp Blatter is on the stage. No idea why.
17:45: And without too much surprise, Cristiano Ronaldo, Lionel Messi and Zlatan Ibrahimovic are the forwards. Cue a 'but could they do it on a wet and windy night in Grimsby?' The answer is yes, probably.
17:42: Joining them are midfield trio Xavi, Franck Ribery and Andres Iniesta - who is absent from the ceremony.
17:41: So the player announced so far for the team of the year are: Manuel Neuer; Philipp Lahm, Sergio Ramos, Thiago Silva, Danis Alves. Currently, each of the winners are answering questions on stage. Very cringe.
17:38: We're underway in Zurich and the three nominees for each of the main awards have taken to the stage and now to their seats. we're now learning who the team of the year winners are. If you've kept an eye on Twitter, you'll already know.
17:33: As we approach kick-off in Zurich I must mention how instead of the IBTimes UK heads sending me out to Switzerland to cover the crowning of the great footballer of 2013, I am instead sitting in a dubiously air conditioned Canary Wharf office. Just want to relate to the people.
17:28: I have always found it unfair how Ronaldo, the former Brazilian striker, is dubed the 'fat Ronaldo'. Very unfair, very very unfair. Here's an image describing my disappointment.

On reflection, maybe not the best choice.
17:23: In less than 10 minutes Ruud Gullet (former football) and Adriana Lima (not former football but attractive individual) will take to the stage and guide us through the evening. Fifa will have demanded both charisma and no overshadowing Sepp Blatter. Not easily done.
17:19: Eight awards are set to be announced this evening including the biggy, you know, the one we've all been waiting for. Yes, tonight the Women's Football Coach of the Year will be confirmed, along with seven other lesser known prizes:
FIFA Ballon d'Or
FIFA Women's World Player of the Year
FIFA Men's Football Coach of the Year
FIFA Women's Football Coach of the Year
FIFA Presidential Award
FIFA Fair Play Award
FIFA Puskas Award
FIFA/FIFPro World XI
17:15: Lionel Messi is in pursuit of a fifth Ballon d'Or this evening. Over the past four years he has undisputably been the best player in the world. Outstanding. Unmatchable. It does not, however excuse suits such as the one below. Totally shameful.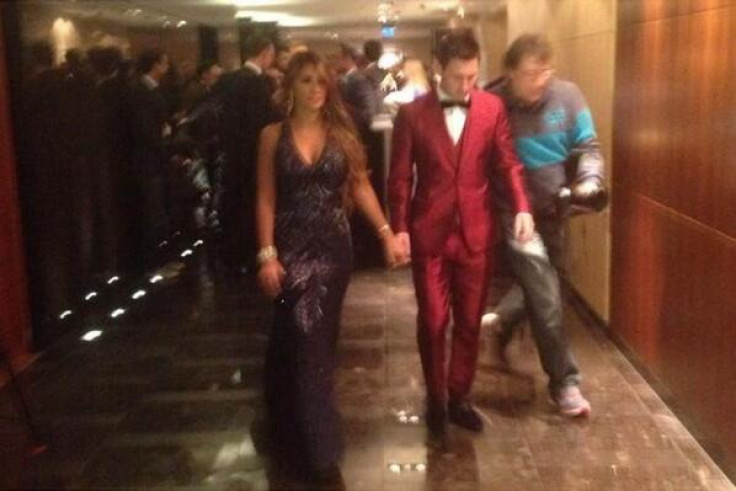 17:13: Wait everyone, hold on, Pele has something to say. The best player of all time remember.
I think Cristiano Ronaldo deserves a win."
Mmm very interesting from the Brazilian. Not to criticise the world's best footballer ever of all time in the world, and without wanting to lambast his English, but Ronaldo won the award in 2008. It happens to us all Edson. It happens to us all.
17:05: The stars are arriving on the red carpet as we speak. *I think that's how they say it*. Excitement is at fever pitch and the world of football unites to celebrate the year that was 2013. I've got all the cliches.
17:00: So, here we go then. Award season is very much upon us and we kick-off with football's contribution to the over-hyped post-year award; the Fifa Ballon d'Or. Eight awards will be presented tonight including the crowning of the finest male player of 2013. We're all very, very excited.
© Copyright IBTimes 2023. All rights reserved.