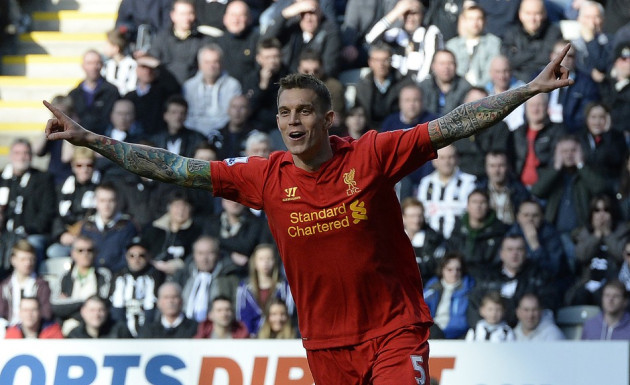 Daniel Agger has admitted for the first time that he was aware of interest from Barcelona but made it clear that he was happy to remain at Liverpool because they were the club that "gave me everything".
The Denmark international was heavily linked with a possible move to Barcelona after the Catalan giants were told that they would be unable to sign top target Thiago Silva from Paris Saint-Germain.
Barcelona are not the first club to try and tempt Agger away from Anfield, with Manchester City also making their interest well known last summer. However, the newly appointed Liverpool vice-captain has made it clear that his intention is to extend his seven-year stay on Merseyside.
"Overall you have to think that it [Barcelona's interest] is a positive. It is a positive that someone likes what you are doing. When a club such as Barcelona think that then it is a boost and for that I am pleased. I am not going to deny that but that doesn't mean that anything [a move] happens," Agger told the Guardian.
"If a move doesn't happen that that's that. That's nothing I can dictate or decide. I have a contract with Liverpool for another three years and if they want to keep me, they will keep me."
The comments will go a long way to easing the fears of suuporters who must have been worried that one of their longest serving, and most consistent performers, would be tempted by a move to the Spanish champions.
"Liverpool will always be the club that have given me almost everything in my career. When the time comes for me to leave, I want to have the same relationship that I have with Liverpool that I have now," added the defender.
"I have spent eight years here. That has an effect on you. And because of that I am never going to lose the relationship I have with Liverpool if I, for example leave in three years when my contract expires."
The 28 year old penned a new contract last summer, amid speculation that he could move to then Premier League champions Manchester City, and he has no regrets about committing to the club.
"Signing that contract was the right for me at that point of my life and my football career. Liverpool have given me the contract of my life," revealed Agger. "It is a fantastic contract and that, together with the fact that I have a good life here, is a very good combination."
Now the classy centre-back hopes that he can help the club push forward as they look to break back into the top four and secure themselves a place in the Champions League.
It has been an impressive start to the season, with two wins and two clean sheets in their opening two Premier League games, and now Agger hopes that the club can push on and compete at the top of the table.
"Getting in to the top four is our aim," confirmed the Dane. "It is the biggest tournament and we have missed for a few years now. We have missed those games and it would be a great target to achieve and if we get a few new players in then I think it is a realistic achievement.
"I say that considering the amount of points we have won this year and I think that shows that we are on the right way."