Liverpool have had a torrid 2014/15 season so far. The harbingers of doom were swirling before the current campaign kicked off with Luis Suarez departing for sunny Barcelona, while things went from bad to worse with the absence of Daniel Sturridge through injury. In between those two episodes, a raft of young, fresh new faces joined the Reds (apart from 32-year-old Rickie Lambert, of course) with the hope of following manager Brendan Rodgers' philosophy of high-intensity, pressing football.
But the hopes of Emre Can, Lazar Markovic, Adam Lallana et al building on the nearly season of 2013/14 faded the moment Sturridge was seen stroking his thigh during an England training session, crestfallen that last term's highs were about to be replaced with this term's lows. Apparently, the lessons Spurs learnt in the aftermath of selling Gareth Bale to Real Madrid for a record fee and then filling his void with under-par replacements weren't picked up on Merseyside.
The performances have been sub-standard, with the Reds currently languishing in seventh place in the Premier League, dreaming of the adrenaline-fuelled highs of last season, swashbuckling with the likes of Chelsea and Manchester City for top spot rather than aiming to beat a path into the top four and reach it by the skin of their teeth.
So the revelation from Rodgers that Liverpool won't be dipping into the January transfer window sounds like madness. There have been calls for the likes of Gonzalo Higuain, Morgan Schneiderlin and Ezequiel Lavezzi to come and don the Liverpool red, kiss the Liver Bird and help to salvage the season before kicking on next term ready for a proper assault on the title.
But it's not madness. Liverpool should stay just the way they are, for the rest of this season at least.
Putting aside the fact Rodgers hasn't got a wonderful record when it comes to signing top players (Philippe Coutinho and Sturridge are the obvious standouts), perhaps that view comes across because the newbies don't really get a chance to bed in before they are shipped off and the new fresh-faced kid on the block gets a go.
But look at Jordan Henderson (albeit signed by Kenny Dalglish before he was sent packing). The former England Under-21 captain wasn't deemed good enough to clean the boots of his fellow Reds and many felt he should be on his way out of the club. But to see him play now, that feels like a distant memory. Given the time to develop his game and build his confidence, it's no surprise Henderson is the vice-captain and will likely take the armband when Steven Gerrard leaves the club in the summer for a place where his Hollywood balls will be at home.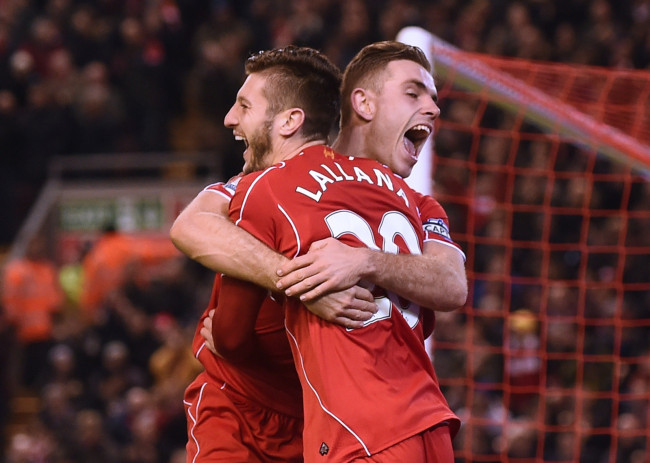 The same could be said of Lallana, who after an injury-laden start to life at Anfield is coming good with eloquent touches and deft movements that show why Liverpool persuaded him to leave Southampton. Markovic is starting to make a name for himself, imposing his frame and feet on games.
Even Can is beginning to settle, although surely playing on the right side of a defensive back three is only a short-term measure, as the former Bayer Leverkusen man doesn't look comfortable in his current position and Chelsea certainly highlighted his weaknesses in the role during the League Cup semi-final. Add Alberto Moreno to that mix and you start to get the shape of a core that could make a real impact if given time.
Buying a big name in January won't guarantee Liverpool a spot in the top four, and by the time it takes for any new players to fit comfortably in the side, it will be May and everyone will be getting ready for their holidays. Far better for Rodgers to continue letting his new players integrate with his training methods and take their turn to do a Henderson and build in confidence and stature. OK, there's no guarantee this method will guarantee a seat at the table of Europe's elite next season either but it's better to get this group of players in a position where they can take the opportunity to stop being individuals and start gelling as a team.
Yes, there are issues that need to be solved. Mignolet isn't filling the defence with confidence and has been susceptible to mistakes; also, he could do with someone giving him a proper challenge for the role between the sticks. The defence still hasn't got anyone standing up and declaring themselves a leader. Set pieces against Liverpool still leave most fans bereft of fingernails. And without the multi-pronged attacking threat of 2013/14, having 20 shots against Chelsea is futile if more chances aren't converted (obviously a big hand - literally - goes to Courtois for his role in keeping the Blues' concessions to one goal).
But it's not time for wholesale changes. Let Rodgers keep working on that philosophy, give the current batch of players a real go. And then when we get to the summer transfer window, Liverpool should have a better idea of where the real gaps are and where the extra talent, if needed, has to come in and shine.
Stacey McIntosh is chief sub-editor of IBTimes UK. He has previously written for Metro and Men's Fitness.