Jamie Carragher is well aware of Liverpool's rich history of playing passing football but he believes that current manager Brendan Rodgers has taken that philosophy to another level.
The Liverpool boss has worked hard over the course of the season to instil his brand of football on the first team and there have been signs that the players are starting to adapt to his system.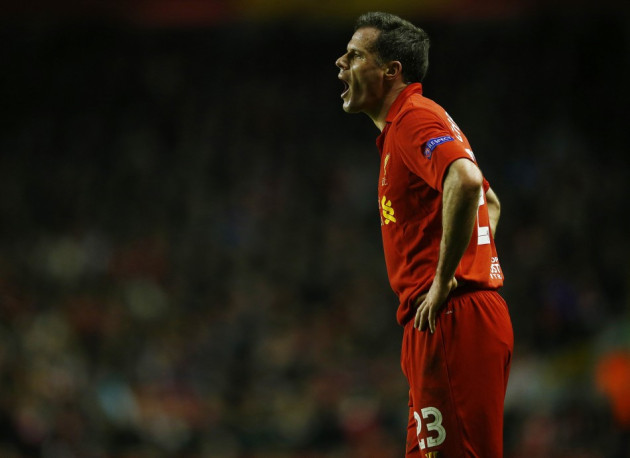 After a difficult start to the campaign Liverpool's performances have begun to improve and they have had enjoyed some positive results; scoring five against Swansea, hitting Wigan for four and defeating an in-form Tottenham side.
They did suffer a surprise 3-1 loss to Southampton in their last league game but Carragher believes the Liverpool players are starting to see the positive influence of Rodgers possession-based football.
"We've always played football at the club but I would say that Brendan Rodgers has taken it on another level in terms of playing football," Carragher told the official Liverpool website.
"He wants us to play even more football than I have ever been brought up to play. But we've always been a passing club and that will never change."
Carragher's presence in the first team has coincided with a positive run of results and the veteran defender has shown that even at the age of 35, he has been able to adapt to playing passing football.
"At the start of the season I was aware that some people were saying I wouldn't suit Rodgers' style of football. But I think I have put that to bed in the last few games I have played," added Carragher.
"I think I've played well this season, without blowing my own trumpet. Even earlier in the season when I was playing in Europe and in the Carling Cup, I was quite pleased with how I performed. Hopefully I can carry that through to the end of the season."
With Carragher retiring at the end of the season it will leave a huge hole in the Liverpool defence and Rodgers will be tasked with the unenviable job of finding a player capable of replacing the Kop legend.
For now though Carragher's influence can be felt around the Melwood training ground where he has been working with the academy players, something he admittedly enjoys.
"I enjoy international week because you get to see some of the young lads who have come down from the Academy," the defender explained. "I've been very impressed with Jordan Rossiter. He's done very well.
"It's good for us because it's a bit quieter around Melwood. It's a good time to recharge physically and mentally and get ready for Aston Villa."