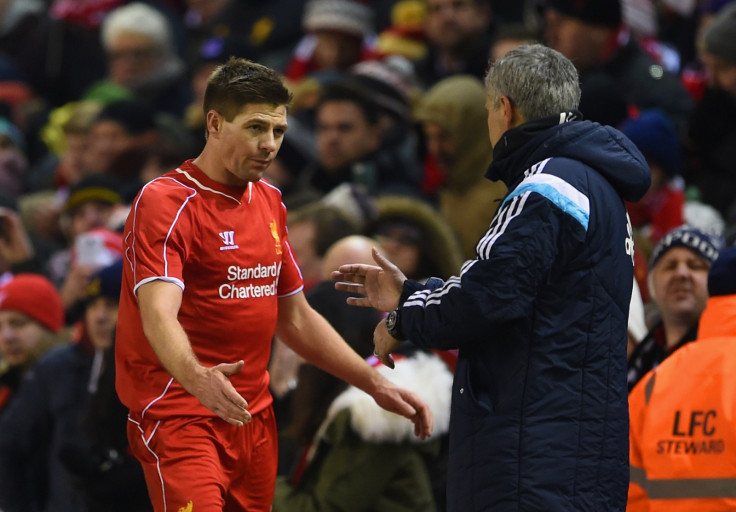 Liverpool face an impossible task to replace Steven Gerrard with one single player, according to Chelsea manager José Mourinho.
Gerrard leaves the club after 17 seasons on Merseyside and will move to LA Galaxy in the summer, giving manager Brendan Rodgers a dilemma over who will be the long-term replacement for the former England skipper.
Jordan Henderson, who is expected to be appointed as Liverpool's captain after Gerrard's departure, and Emre Can have both been touted as potential candidate to fill the void, but Mourinho warns the club may need several players to replicate his impact.
"I think you have to replace with a team organisation, with a team philosophy, with a principle of play – not a player. Because, if you replace, you replace with another one who is not so good," Mourinho said.
"You cannot go in that direction. You cannot think, I bring this guy to replace Steven Gerrard, you cannot think, I bring this guy to replace Frank Lampard, to replace Paolo Maldini. You can't.
"You have just to try to organise a team in a way where the team can be successful without them."
The comments come as Gerrard prepares to take on Mourinho for the final time in the Premier League after several failed attempts by the Chelsea boss to sign the Liverpool midfielder.
Mourinho has admitted to trying to sign Gerrard as manager of Chelsea, Inter Milan and Real Madrid, with little success, as the player chose to remain with Liverpool despite their continued failure to win a league title.
"I am sad he is leaving the Premier League, the same as our Frank Lampard," he said. "But Frank is a Chelsea legend and it's a different situation, because Steven was always on the other side."
"I tried to bring him to Chelsea. I tried to bring him to Inter. I tried to bring him to Real Madrid. But he was always with the enemy. I want to honour him and I hope Stamford Bridge has the same feeling."