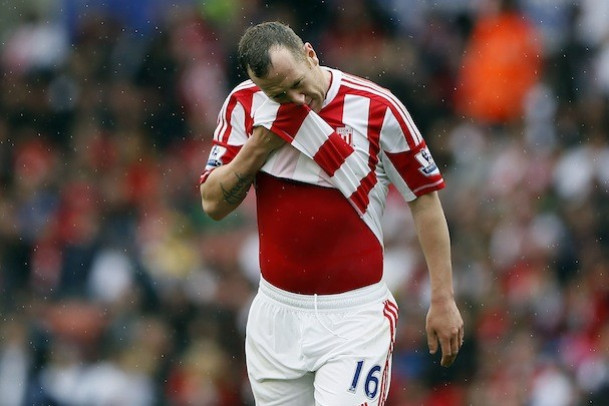 Charlie Adam has admitted that he regrets leaving Liverpool with the midfielder saying he would have liked to have had another season at the club to prove himself.
Adam was signed by Kenny Dalglish in the 2011 summer transfer window from a relegated Blackpool side for a fee of £6.75m. While he had been a standout performer for Blackpool the Scotland international was much less dominant in the Liverpool side and when Brendan Rodgers came into the fray in 2012 he was quickly out of favour.
After Liverpool played Hearts in the Europa League at the beginning of the 2012-13 season Adam was told by the club he wasn't wanted and quickly sealed a move to Stoke afterwards for around £4m. He has become an integral member of the Potters' squad but has revealed he wishes he had tried to push his way into the Reds' squad under Rodgers before agreeing to leave.
"It was a difficult choice, it was a difficult time," he told Sky Sports. "It was one of those decisions you have to make in a very short period, when I really thought about it and I only had 24 hours to think about it.
"It happened quick, we played Hearts in the Europa League and I went to see Brendan and I said, what's the situation and he said we want to sell you.
"And that was it, and 24 hours I had to think what I wanted to do and I made a decision and probably, probably I should have stuck it out for another season if I'm being honest."
Jordan Henderson was another of Dalglish's signings who appeared to be surplus to Rodgers' requirements but the English midfielder stayed at Merseyside and now makes regular appearances on the pitch, looking to have proved the manager wrong in his initial assessments.
And Adam says that Henderson's situation has made him look back and wonder what might have happened had he stayed and worked to prove Rodgers wrong as well.
"I'm one of these lads that wants to play I want to play every week every Saturday if I can," he explained. "But you see it now and Jordan's still there and he's playing every week. You never know, that might have been my situation. But you make that choice and I've got to stick by that."