Liverpool vs Chelsea: Magnificent Reds Maul Di Matteo's Men
Liverpool have recorded a surprising but not undeserving 4-1 league win over Chelsea and exacted revenge for the FA Cup final defeat at Wembley.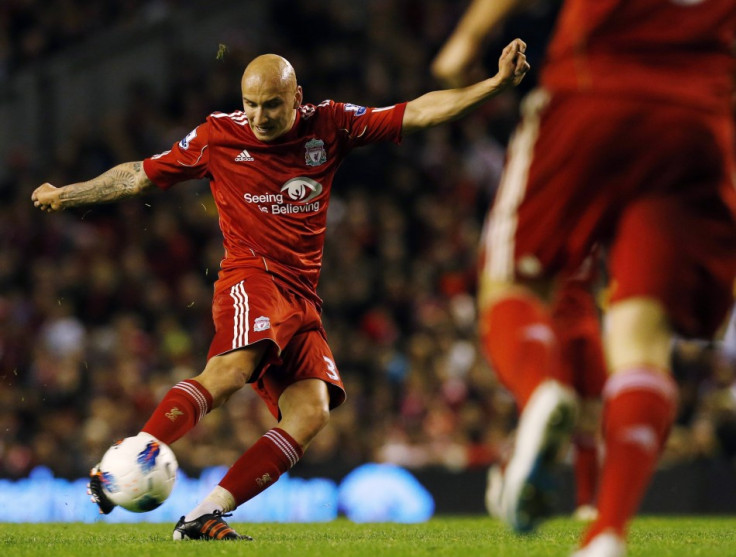 In one of the most unexpected results in recent times, Liverpool have crushed Chelsea 4-1, with goals from the underperforming and under fire Jordan Henderson and Jonjo Shelvey, as well as centre-back Daniel Agger and an own goal from Chelsea's Michael Essien. The Blues' lone goal was courtesy Brazilian midfielder Ramires.
This is the second time in three days that Roberto Di Matteo and Kenny Dalglish have gone head-to-head, after the weekend's FA Cup final at Wembley, which saw Di Matteo's Chelsea run out comfortable 2-1 winners. All the talk, therefore, going into this penultimate league fixture of the season for both club was about the possibility of Dalglish engineering revenge for that defeat and that of Di Matteo choosing a strong starting 11, despite the Champions League final being only 10 days away.
There had been speculation, earlier in the week, the Italian would try to exploit the glimmer of hope presented by Arsenal, Spurs and Newcastle when all three failed to win their last league games. Chelsea, prior to the Liverpool game, were in sixth place in the league and had an outside shot of a top four finish (and thereby ensuring, at the least, access to the play-offs for the Champions League next season), if they won their remaining two games while the Gunners, the Magpies and Spurs lost their respective last games. It was always going to a long shot and a desperate one and so it proved to be. Despite the speculation, Di Matteo admitted the impossibility of the situation when he named a markedly different and weaker side to the one he fielded at Wembley.
Ross Turnbull started in goal ahead of Petr Cech, while Ryan Bertrand, Paulo Ferreira, Oriol Romeu, Florent Malouda, Daniel Sturridge and Fernando Torres all started in place of the likes of Ashley Cole, Frank Lampard, Didier Drogba, Juan Mata and Salomon Kalou.
Liverpool, meanwhile, with nothing but pride to play for, named a strong if slightly surprising starting line-up, with Maxi Rodriguez, Shelvey and Jordan Henderson making the cut and club captain Steven Gerrard not even on the bench. The scorer of the Reds' sole goal at Wembley, Andy Carroll, started ahead of Welsh forward Craig Bellamy, while Uruguayan striker Luis Suarez retained his place.
Liverpool were in something of an unstoppable mood on the night and Chelsea were uncharacteristically poor in possession and lacking in ideas, whether as a result of the hangover of Wembley celebrations or the wholesale changes made to the starting line-up, we will never know.
The opening goal came after Suarez' run out on the right resulted in a cut-back that Essien was unfortunate to put past Turnbull, especially after Serbian defender Branislav Ivanovic was unlucky to hit the post off a corner just a couple of minutes ago. The goal, however, was just about deserved for the Reds, for whom Suarez had been particularly active.
Liverpool's second was the result of yet another defensive error, this time from captain John Terry, which was punished by Henderson and Carroll's headed down ball set up Agger to score the hosts' third goal of the game after less than half an hour.
The opening 30-minute spell of three goals utterly shocked the Blues and, in truth, it was nothing more than Liverpool deserved. Indeed, they would have been even further ahead and Chelsea staring at the possibility of one of their worst defeats in recent memory, had Stewart Downing's 20 yard effort not hit the crossbar and mishit a penalty, given for Ivanovic's foul on Carroll.
Chelsea, however, have displayed nothing if not a bulldog-like tenacity and determination to continue struggling when all seems lost, an attitude exemplified by the performances of Ramires. The Brazilian midfielder has scored key goals for his club in recent games, including the club's first goal (and a match-winning one too) against Barcelona in the second leg of the two teams' Champions League semi-final tie and the FA Cup final at Wembley. He popped up once again, scoring after five minutes into the second half, off a Malouda free kick.
Liverpool, though, refused to relinquish their hold on the game and responded to Chelsea's strike by looking for their fourth. They were rewarded for their optimism and drive (qualities that had they displayed more of during the season, would certainly have served them well) when Chelsea's stand-in keeper Turnbull compounded a poor night by mis-kicking a clearance straight to Shelvey who scored into an open net.
The hosts continued to pile forward looking for more goals and to recover as much honour as they could after an otherwise disappointing season and although Henderson, Suarez and Agger all had efforts on goal and Chelsea a few brief attacks themselves, the score remained 4-1 to the Reds.
Liverpool now have 53 points from 37 games and lie in eighth place, a point behind local rivals Everton, whom they will desperately want to finish above.
Chelsea have surrendered all hope of making it to the top four, with this defeat. They have 61 points from 37 games, five points off Spurs in fourth with only a game to play. The best they can hope for is fifth, as long as they win their final game, at home on Sunday against already relegated Blackburn and Newcastle lose, on the same day, at Everton.
© Copyright IBTimes 2023. All rights reserved.