Liverpool manager Brendan Rodgers believes Daniel Sturridge is capable of becoming one of the best centre forward's in European football.
The 23-year-old forward provided a scintillating performance marked by a hat trick in Liverpool's 3-1 win over Fulham at Craven Cottage on Sunday, taking his tally to 12 goals in 15 appearances since his January arrival at Anfield.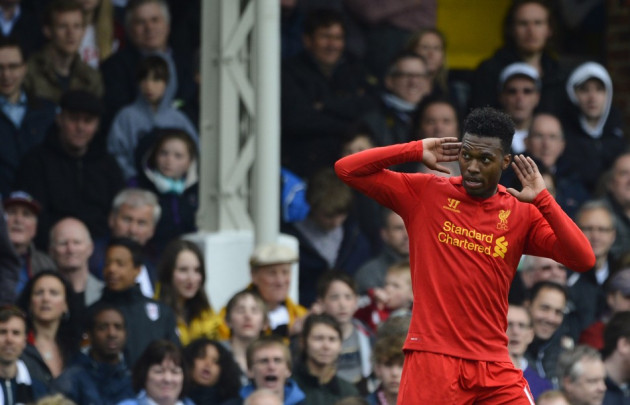 "I've been mightily impressed by Daniel Sturridge," Rodgers told a press conference, ESPN report. "He is a young player who has all the attributes to be a top European forward.
"We were very exciting. Going forward we were really creative. We scored three and could have had more. It was a terrific second half performance."
After Luis Suarez was handed a ten game ban for biting Chelsea defender Branislav Ivanovic last month, 23-year-old Sturridge has taken on the responsibility of being the club's leading forward.
Five goals in three games since the Uruguayan's ban suggest the club are coping admirably, and Rodgers believes his side are well placed to challenge for a top four position next season.
"I think we can have an exciting season next year," Rodgers added. "We can build. We need more depth in the summer. "We will be looking for a real sustainable challenge for the top four."
The former Swansea City manager also lavished praise on his other January signing Philippe Coutinho who has taken to Premier League football with aplomb.
Assured performances in his position behind the forward and an impressive return of five assists and two goals since his switch from Inter Milan mark a striking first four months as a Liverpool player, and Rodgers believes Coutinho accurately embodies what the club are looking to achieve.
"For me it was going to be interesting to see how he would cope with the physicality," Rodgers told the club's website. "His body work is incredible. How he rolls the ball and the way he passes.
"His comfort on the ball is amazing. He fits perfectly into what we are trying to do. We're trying to build a team of winners, who are technically competent and he's got wonderful technique."
Regardless of scores around them, Liverpool will finish this campaign in seventh place, and will look to see Rodgers' first campaign out in style in their closing day clash with Queens Park Rangers at Anfield next weekend.