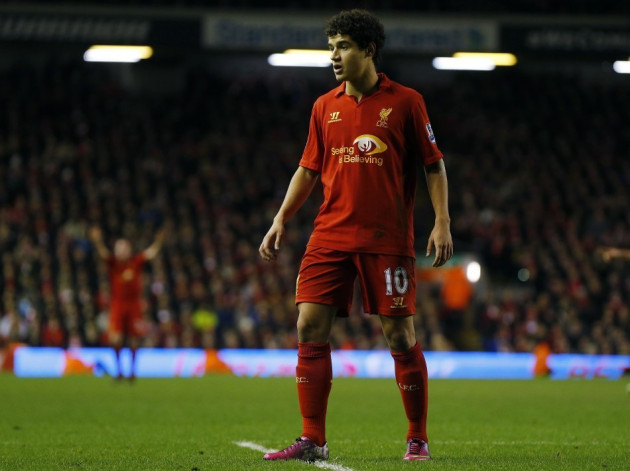 Brendan Rodgers has confirmed that his star midfielder Philippe Coutinho is fit to play a part against Arsenal when Liverpool visit the Emirates on Saturday.
Liverpool are in top form this season, currently third in the Premier League, joint on points with Chelsea who are ahead on goal difference. Rodgers has been flying high with their striking combination of Luis Suarez and Daniel Sturridge who have scored 14 goals between them and are regarded as the best striking partnership in the Premier League.
With Coutinho back in contention, Rodgers now has a midfield option to support their famous SAS duo in attack and will be a difficult force to reckon with if they get their rhythm right. A win against Arsenal will give Liverpool some much needed belief as they look to usurp the Gunners from their pedestal and make it to the top four this season.
"Jose will be a question mark for the weekend, but Coutinho looks great. He's been given the all-clear by the specialist to come in. He's been training for the last few weeks, so he'll be back into the squad," Rodgers revealed.
Rodgers also hailed the Gunners who are currently top of the league and insisted that Arsene Wenger is among the best managers in England this season. A win here will take Liverpool top of the table and give help them put up a title challenge. The manager was also dismissive of Arsenal's loss to Chelsea in the Capital one Cup and stated that the strength in depth of Manchester City and Chelsea are unmatched in the league.
"They are a very good team and the top team at the moment because they are there on points. Arsenal Football Club is very much Arsène Wenger, on and off the field. He's one I respect, who changed the landscape with his ideas and methods of work. He's been trying to win trophies and I'm sure he'll see this as a chance to do so," Rodgers said.
"Chelsea don't have an A and B team. They just have a big team from which they pick 11 players. If you look at that team [at Arsenal] the other night, that starting line-up would have a chance of winning the league as well. We have a long way to go to get to that position. Manchester City have a squad full of players as well. It's very competitive this year and we're fighting to be in the race," he concluded.