Jordan Henderson says Brendan Rodgers has been 'brilliant' since the Liverpool manager came into the fold at Anfield, helping the young midfielder get better as he aims to finally prove his worth to the club.
Henderson made the move to Merseyside from Sunderland in the 2011 summer, and is one of a host of players purchased by Kenny Dalglish who has so far produced lacklustre performances for the side on most occasions.
He was handed a surprise England call-up for Euro 2012, but struggled to make an impact as he was left on the bench in favour of Scott Parker, and this season is seen as an all-defining one for the 22 year old to prove himself at Liverpool.
And after building up seven appearances for Liverpool this season, four of which were in the Europa League, he says that Rodgers has been a very positive influence on his improvements.
"Brendan Rodgers has come in and has been brilliant for me personally," he told the Liverpool Echo. "He has definitely helped me improve different parts of my game already.
"I think in the games I have managed to play, you can see that I have improved upon certain things, and that is because of him.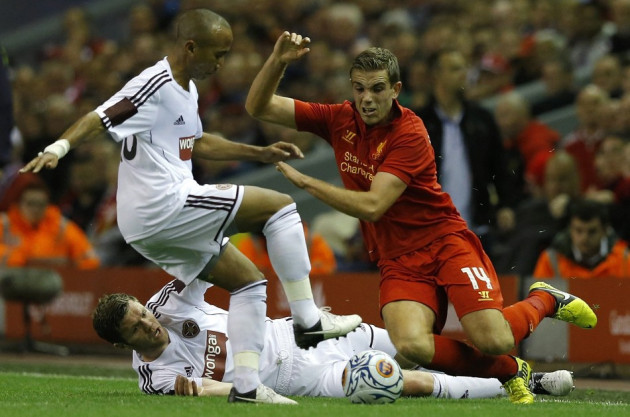 "The areas he has asked me to work on were mostly to do with discipline, and tactical awareness in the team.
"I've developed my understanding of when to go forward, when to stay and things like that. I think you can see there is a lot more maturity in my performances, and I think that is down to his guidance."
Henderson says he is concentrating on taking the criticism from last season and turning it into a positive, planning to learn and grow after making the move to such a high-pressure club.
"I wouldn't say it [the criticism] is harsh, if I am being honest," he explained. "For me personally, I took a lot of positives from my first year here, but there were also negatives, and I understand that.
"The thing I needed to do was to learn from the negative aspects. Without those setbacks, you cannot move forward and become a stronger person. That's how I look at it. I took the negatives on the chin and moved forward.
"I think it has definitely made me stronger, certainly mentally, and in the long run a season like last season will be a good thing for me because it has helped me grow up and toughen up."