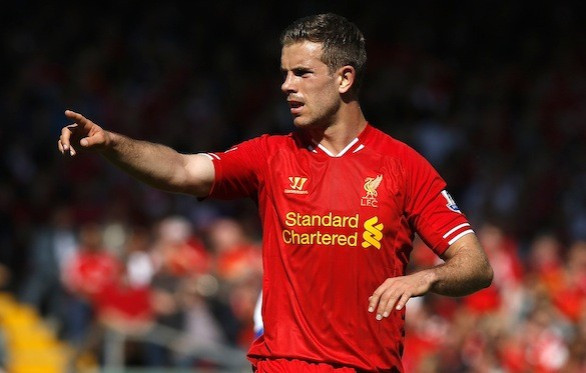 Jordan Henderson believes that Philippe Coutinho's return to the Liverpool squad will be a huge boost for the side as they continue to look dangerous in the Premier League.
Coutinho has been recovering from a shoulder surgery that has kept him out of action since the start of September but the playmaker looks set to make a comeback against Arsenal this weekend after Brendan Rodgers confirmed the Brazilian has returned to training.
Liverpool currently sit in third place in the Premier League table and are flying high with just one loss in their first nine matches. And Henderson believes that Coutinho's return will make the side look even stronger.
"Philippe Coutinho has started training so I'm sure he will be fit quite soon," he told the Liverpool Echo. "That's a great boost for us and we're looking strong at the minute."
Henderson himself has been on an upward spiral for Liverpool with his performances continuing to improve throughout the season as he stakes his claim on a place in England's World Cup squad.
The 23 year old might have been slightly distracted by comments in Sir Alex Ferguson's latest autobiography, released last week, in which the former Manchester United manager criticised Henderson.
The Scot in particular pointed to Henderson's running style as possible source of future injury but the midfielder says he is just concentrating on proving Ferguson wrong.
"I didn't expect it," Henderson explained. "I have just tried to focus on my game and not really thought about it.
"I have a lot of respect for him, he's an unbelievable figure in football, but hopefully he isn't right and I won't have too many problems later in my career.
"It was quite unusual but I haven't read the whole thing. I know he's spoken about my running technique and I'll have to read it properly at some point. It doesn't bother me too much."