Former Leeds United midfielder Terry Yorath believes that his old club should attempt to persuade Liverpool legend Jamie Carragher to become the next manager at Elland Road when he retires this summer.
The veteran defender will call time on his 17-year playing career at the end of the season and it is widely expected that he will look to move into coaching.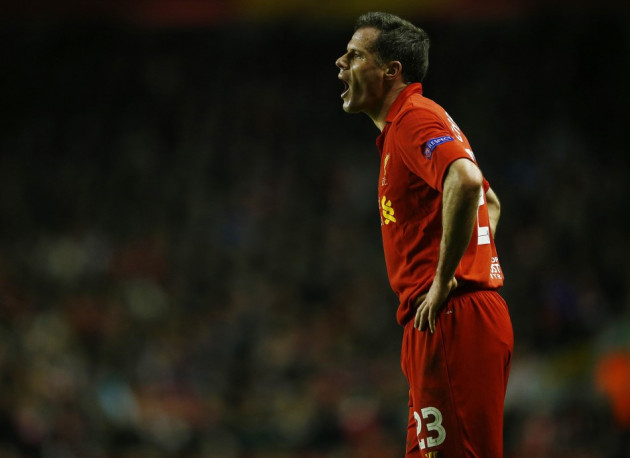 Carragher has already been working on completing his coaching badges while playing for Liverpool and Yorath, who managed at both club and international level, believes that he would be the perfect candidate to replace Neil Warnock.
"I think Jamie would be the perfect choice to take over from Neil," Yorath told the People. "I know that might raise a few eyebrows, and people might say that Leeds is too big a job for a first-time manager. But I don't see it that way.
"Carragher would be a breath of fresh air - and that is exactly what is needed at Elland Road. He's got no managerial experience, I accept that, but what he does possess is a fantastic pedigree and a wealth of knowledge built up over 17 years at Anfield."
Warnock stepped down as Leeds manager last month after the club slid down the table and the realisation dawned that they stood no chance of qualifying for the play-offs.
Leeds are yet to appoint a full-time replacement, with Neil Redfearn taking charge on a temporary basis, and Yorath believes that Carragher would have an instant impact having played more than 700 games and worked under successful managers like Rafa Benitez, Gerard Houllier and Kenny Dalglish.
"He has learned from some of the best managers in the business, and he knows all there is to know about football," added Yorath, who spent nine years at Elland Road after coming through the Leeds youth system.
"You only have to listen to the way he expresses his views on the game to realise that. It is crystal clear that he is a keen student of the game and very knowledgeable. He not only talks sense, but also speaks with a lot of enthusiasm and passion.
"That is the kind of thing that rubs off on players and brings out the best in them. I don't know what Jamie's plans are after he hangs up his boots, but it would be a great shame - and a loss to the game - if he didn't move into coaching."
Yorath is not the only man to suggest that Carragher could have a successful time in management, as England manager Roy Hodgson also spoke of his belief that the defender would be a top coach.
"Having worked with Jamie Carragher it was always evident that he was a model professional who gave everything he had for club and country," said Hodgson. "After retirement I am sure he will march quickly up the coaching ladder and become one of the country's top young coaches.''