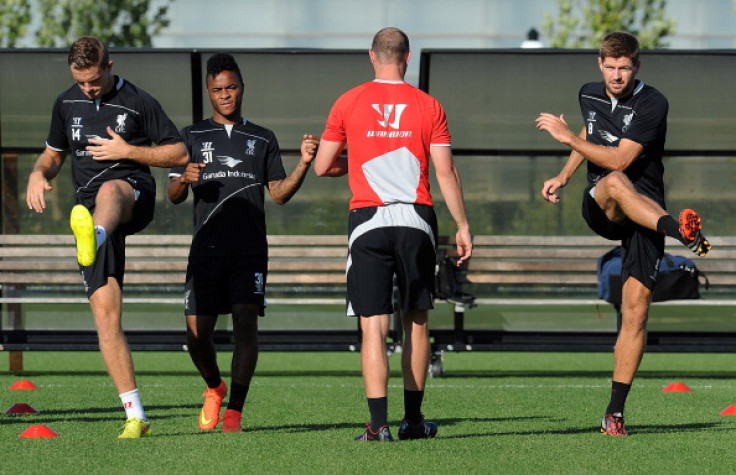 Robbie Fowler told IBTimes UK that he remains hopeful that Liverpool duo of Steven Gerrard and Raheem Sterling sign a new deal to extend their stay at Anfield.
The Reds' skipper has over six months left on his current deal. Brendan Rodgers has already confirmed that the Merseyside club have handed the star midfielder a new deal and it is now up to the 34-year-old to decide on his future.
Meanwhile, Sterling has over two years left on his contract and the England international is reportedly unhappy with the pay rise of £40,000-a-week. The former Liverpool striker heaped praise on both Gerrard and Sterling and says only the players can give more insight on the saga surrounding their future at Liverpool.
"What I will say about Gerrard first and foremost is that he's been an unbelievable player. At times he has carried Liverpool on his back and he's walked us through the storm," Fowler told IBTimes UK.
"We know he's been offered a new contract and has not signed it yet. Will he sign it? I don't know. Only he can answer that. But I want him to stay at Liverpool as long as he can. I think he's probably not playing well as he would have liked. But he's by far Liverpool's best player."
Speaking about the 20-year-old midfielder, he said, "Sterling has been a little bit quiet this year to what he was last season. But he's a good player. Playing under Rodgers I think his form was excellent last year and he will get it right again. If you're enjoying football and enjoying playing at Liverpool, I think he will sign."
"But again, I think only players can answer that. I can't sit here and say 'I think he will sign or he won't sign', it's down to the players as the contract is offered on the table," the Anfiled legend added.
Fowler was in India to participate in the Barclays Premier League LIVE event in Mumbai. He was present for the screening of the clash between Manchester United and Liverpool, which the Red Devils won 3-0 at Old Trafford, on Sunday.
The former England international was excited for the biggest fixture in the Premier League, but unfortunately, the result did not go in favour of the club he supported.
"I have been in India a few times. I was in Delhi a year ago for a Liverpool event and was here [in Mumbai] for the World Cup [2014 Fifa World Cup] in the summer. I enjoyed my stay here, still enjoying it and love meeting Indian football supporters and the support we get over here as Liverpool is tremendous," Fowler concluded.