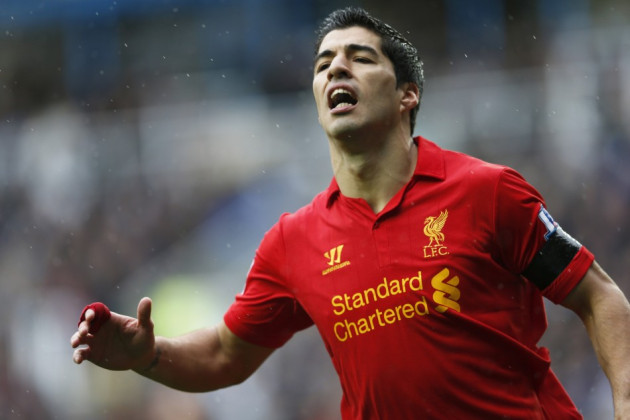 Liverpool hero Robbie Fowler has warned Luis Suarez he is on his last chance to redeem himself and prove his controversial past is well and truly behind him.
The Uruguayan international is set to make his long awaited return from his ten game ban for biting Chelsea's Branislav Ivanovic against Manchester United on Wednesday night in a Capital One Cup tie.
The 26-year-old has delighted and frustrated in equal measure throughout the year, finishing the season as the club's top scorer after a scintillating season before attempting to engineer a move away from the club throughout the summer, before eventually reconciling with Brendan Rodgers.
Throughout his chequered spell in the Premier League Suarez's club have relentlessly stood by him, and former Reds striker Fowler believes the striker cannot afford to any more slip ups.
Asked if this is Suarez's last chance with the club, Fowler told BBC Sport: "Without a doubt. He has let a lot of people down, including myself.
"The club have stood by him, so have the Liverpool supporters, and you can see why because he is a phenomenal player and you want phenomenal players in your side.
"I know in the summer it looked like he was leaving and quite rightly Liverpool expected a bit of loyalty back off him and thankfully he is still a Liverpool player.
"I don't think he'll get many more chances but I don't think he will be doing anything remotely as silly as he has."
Typical of the man Suarez who so often has a penchant for the spectacular, the striker returns in time for one of the biggest fixtures in English football, albeit in the Capital One Cup, when Liverpool take on Manchester United at Old Trafford.
The former Ajax star has endured some of his most controversial moments against the Premier League champions such as his racism spat with Patrice Evra and the pre-match handshake debacle that followed.
But Fowler hopes the South American can once again perform on the big stage without his controversial moments imposing on his abilities as a footballer.
"You get players of the past who do silly and stupid things, it's not right but you do expect loyalty back," Fowler added.
"I'd say don't give anyone licence to shoot you down. Go and do the right stuff and be the player that we know you are.
"Let's start talking about Luis Suarez as one of the great players rather than the stupid things he does on the pitch."