Live:
Martin Skrtel fires Liverpool in to the lead after 34 minutes
Manchester City start with Carlos Tevez and Mario Balotelli in attack
Liverpool start with Raheem Sterling for the first time in the Premier League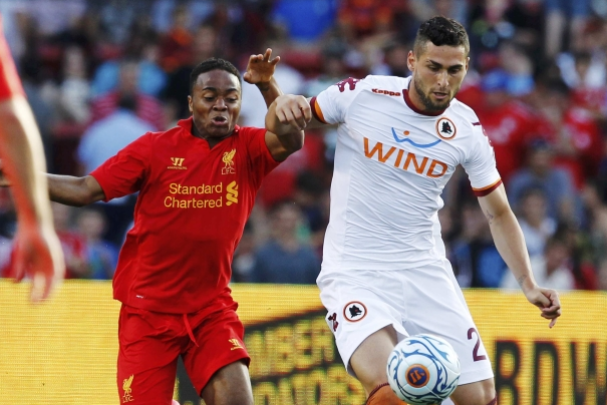 17.03: Rodgers confirms that Lucas was actually injured during the warm-up. Fortunately Liverpool have not missed him so far as City get the game back under way and earn an early free-kick in a dangerous position, but it is once again wasted by Kolorov.
16.50: Well that first 45 minutes will leave the Liverpool faithful feeling much happier. The trio of Gerrard, Shelvey and Allen have controlled the game, while Sterling looks a real handful on the left-wing. Machester City will surely make some changes if the second half continues in the same vein. Samir Nasri has been unable to influence the play, while Yaya Tour has been surprisingly quiet.
Half-Time: Liverpool 1-0 Manchester City
16.45: Manchester City have a late chance in the half to grab an equaliser as Sterling fould Balotelli and hands Kolorov the chance to whip the ball in. His free-kick is blocked and Liverpool go in ahead at half-time.
16.42: City are struggling to get a foot hold in the game. Toure, who is normally so dominant, cannot get a hold of the game and it is Liverpool who are controlling the possession. After a period of passing football, Suarez unleashes an effort from 25 yards which flies wide.
16.33: GOAL: Almost an own-goal from City captain Vincent Kompany who stretches out a leg to block a curling ball from Gerrard and it just flies over the bar. From the resulting corner Martin Skrtel slams a header past a helpless Hart and Liverpool are in front.
16.31: Balotelli has his first chance of the game as he squares up Skrtel but his shot balloons over the bar, with his team-mates unhappy he didn't look up and square the ball.
16.29: The Kop are in full voice after Borini finds some space and his shot is blocked for a Liverpool corner. City get the ball away but Rodgers' side are certainly showing signs of getting on top.
16.25: Martin Kelly commits a foul on the corner of the penalty area after Balotelli managed to rob the ball from Skrtel. The resulting free-kick is too long and simply goes out for a goal kick.
16.19: Mere seconds later and it is nearly Manchester City who take the lead as Tevez goes around Reina to square the ball which hits the far post and is then cleared. Liverpool opened up by the movement of Tevez there.
16.18: First opportunity of the game and it falls to Fabio Borini. It is great work from young Raheem Sterling who whips the ball in to the box and Borini gets ahead of his marker to stab the ball just wide.
16.15: It's been a relatively low key opening as both sides have struggled to take a hold of the game. City have won their last three games 3-2 but at the moment there have been fews sightings of goal for either side.
16.08: Martin Skrtel gets a bit too tight on Mario Balotelli who spins the defender and is brought down around thirty yeards from goal. Alexander Kolorov fires the free-kick low and hard but it is a confrtable save for Pepe Reina.
16.04: There is going to be an early change as Lucas apears to have picked up an injury and Jonjo Shelvey is warming up ready to come on. Disaster for Lucas who missed much of last season through injury and has only just returned to full fitness.
16.00: Anfield is basked in sunshine as Liverpool get the game underway and there is an early chance for Steven Gerrard who drags his shot wide from the edge of the box with just 30 seconds on the clock. A bright start.
15.55: The teams are in the tunnels as we prepare for perhaps the biggest game of the weekend. Joe Hart lookes relaxed as Steven Gerrard appears focused. He will hope to lead the Liverpool attack and provide opportunities for the front three of Suarez, Borini and Sterling.
15.50: Liverpool left-back Jose Enrique has tweeted about new signing Nuri Sahin. "I already meet Sahin today here in the training ground. Speaks very good Spanish and looks a very nice person. Looking forward to playing with him. But first we have to win today! Come on lads! Big game today..."
15.45: Teams
Liverpool - Reina; Kelly, Coates, Skrtel, Johnson; Gerrard, Lucas, Allen; Borini, Suarez, Sterling
Manchester City - Hart; Zabaleta, Kolo Toure, Kompany, Kolarov; De Jong, Yaya Toure; Milner, Tevez, Nasri; Balotelli
15.40: After a terible start for Liverpool, life does not get any easier as Brendan Rodgers attempts to win his first points as the Reds boss when he faces last years Premier League champions Manchester City. Liverpool's home record last season was terrible and they will look to make an early impression by upsetting Roberto Mancini's side.
City have seen an impressive start from big spending Chelsea who top the Premier League table with three wins in their first three games. City may be without Sergio Aguero but they have an impressive strike force in Carlos Tevez and Mario Balotelli. Last season City drew 1-1 at Anfield but they will hope to gain all three points and keep the early pressure on Chelsea.