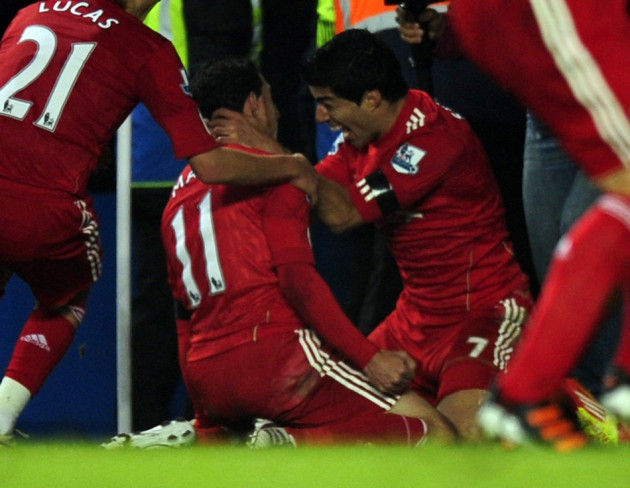 Liverpool midfielder Lucas Leiva could face up to six months on the side-lines after he sustained a serious knee injury against Chelsea on Tuesday.
The 24-year-old midfielder was carried off on a stretcher in the latter stages of Liverpool's 2-0 win at Stamford Bridge following a collision with Ryan Bertrand. He was later seen leaving the ground on crutches.
Liverpool will await the results of a scan carried out on Wednesday before making an official comment on the condition of the South American, but there are fears the player has suffered cruciate damage, which will certainly lead to a lengthy lay-off.
Should Liverpool's worst fears be confirmed it will be a bitter blow for manager Kenny Dalglish. Lucas has overcome a difficult start to his Anfield career to bloom into one of the club's most important players in recent years.
A £7m Rafael Benitez signing back in 2007, Lucas initially struggled to justify his price-tag and his transition into Liverpool's first-team was slow.
However, the Brazilian has flourished in the last two seasons - picking up the club's Young Player of the Year and Player of the Year in consecutive campaigns - and he has been one of Liverpool's stand-out performers this season.
His performance against Manchester City at the weekend was hailed by critics as his best yet for the Reds.
All of which makes the timing of the injury even worse for the player and the club as Liverpool look to reassert themselves in the Premier League top-four.
Steven Gerrard can be expected to provide cover in the long-term but the Liverpool captain is still a month away from full fitness following an ankle infection.
Jay Spearing and the recalled Jonjo Shelvey are also viable candidates but attention is likely to be focused on summer-signing Jordan Henderson who has made no secret of his desire to play in the centre of the park.
"I've played a lot in central midfield and people might say that's my best position, but I've been playing in numerous positions since I've been at Liverpool and it's a different ball game when you come to a club like this," Henderson told reporters.
"You have to fight for your place every week. I'm lucky enough to be in the team at the moment and I just have to keep on doing my best wherever I am put. It is difficult when you aren't in the team, but that's part and parcel of football - it does hurt you when you are on the bench.
"But it's a team game, and you have to be there for the lads who aren't playing. You'll get your chance if you impress during training, and you have to then take it. Standards are high at a club like Liverpool, but I set my standards very high and I'm sure everybody else at the club does."