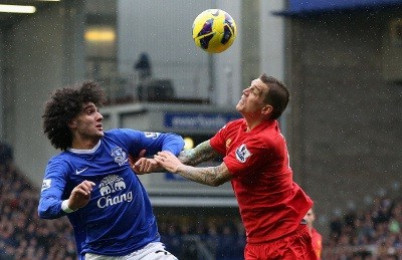 Liverpool captain Steven Gerrard claims Everton play a direct, physical style of football, similar to that of Stoke City.
The Reds found an early two-goal lead in last week's Merseyside derby at Goodison Park but the Toffees fought back and levelled the scores before the break. And after Luis Suarez' stoppage-time winner was controversially ruled out for offside, Gerrard feels Liverpool were robbed a win in the game.
The 32-year-old thinks Everton are a physical side, with the likes of Marouane Fellaini, Sylvain Distin and Nikica Jelavic in the squad and also insists that his team were the better side as they stayed loyal to their passing and possession-based approach.
"There was only one team who came into the derby trying to play football. Everton are effective because they have some big physical lads in the team and are very direct. They are effective. But the only team who tried to play football was us," the Guardian quoted Gerrard as saying.
"Everton are not better than us. I thought we stood up to a team that are very similar to Stoke. Every single time they got the ball to their goalkeeper it came in long. We had a young, small team and they were all men and stood together. We deserved the win," the England skipper pointed out.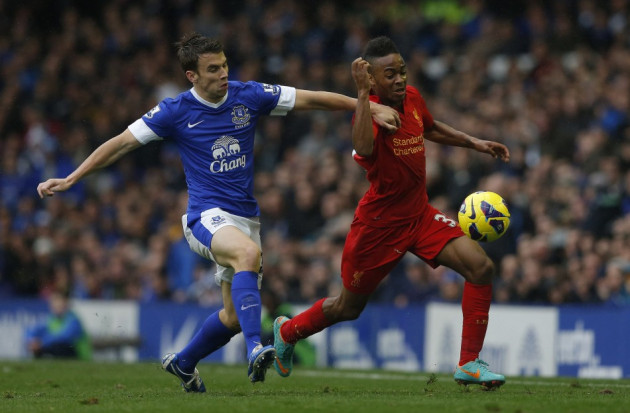 Gerrard also believes that young winger Raheem Sterling, who experienced his first Merseyside derby last week, will have a major impact in the fixture from now on. The 17-year-old became a regular member of the first team this season under Brendan Rodgers.
"I thought Sterling was fantastic. He has been a revelation for us. To be 17 years of age away in a derby in a cauldron in an atmosphere like this against a big physical, long-ball team, I thought he was outstanding," Gerrard told the Telegraph.
"I don't think the Everton players would have known too much about Raheem Sterling before Sunday. But I think they are going to be seeing an awful lot of him in the future. He is going to be playing in many, many Merseyside derbies. He is going to have a major impact in them," the Reds captain stressed.