Liverpool manager Brendan Rodgers has warned against Philippe Coutinho becoming a victim of football's hype machine after another impressive performance.
The Brazilian was in splendid form as Liverpool hammered a hapless Newcastle United side 6-0 at St James' Park on Saturday. Alan Pardew's tormentor in chief was at his creative best as he laid on two goals for his teammates during virtuoso solo performance that tightened the club's grip on seventh place.
The 20-year-old has done little wrong following his January arrival from Inter Milan, but Rodgers is wary of too much pressure being exerted on his young star early on in his Premier League career.
"We build up players in this country and put them on a pedestal and then quickly nail them down," Rodgers told the club's official website.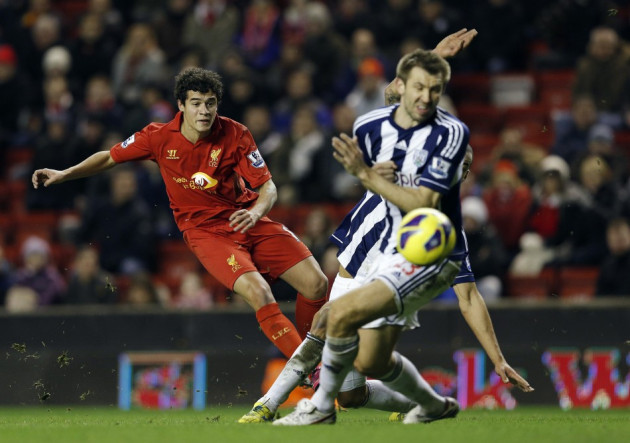 "He's had an outstanding performance and people can see why we brought him in. He's 20 years of age and fits the culture of what we're trying to do here.
"He's technically strong and he's a very humble boy. He works hard, you can see the effort in his game, the pressure the intensity, so he fits in really well, but there's a long way to go.
"If you look at the stats you'll see I haven't eased him in gently. He's played nearly every game."
With Luis Suarez banned for ten games after his bite on Branislav Ivanovic at Anfield last week, Rodgers will be looking to players like Coutinho to help fill the creative void left in the Uruguayan's absence. The Reds showed no signs of missing the former Ajax man's presence up front, as they emphatically dismantled relegation threatened Newcastle through a brace each from Jordan Henderson and Daniel Strurridge, either side of efforts from Daniel Agger and Fabio Borini.
The Italian striker has endured an injury-ravaged maiden campaign in English football, and had not been expected to feature for Rodgers' side again until next season. But the 21-year-old returned to score his first Premier League goal for the club, a feat that left the forward feeling instantly elated.
"It was a big emotion for me to secure my first goal in the Premier League for Liverpool, especially after a long injury and long wait for it," Borini told the club's official website.
"What made it even better for me was that it came in front of the Liverpool supporters so I could celebrate with therm. I just wanted to thank them for the support and they have really helped me through my injuries.
A lengthy foot injury marred the Italian's first half of the season, and a dislocated shoulder suffered in February of this year have seen Borini's exposure to the Premier League limited to just ten appearances this season.