Lucas Leiva, Liverpool midfielder, is confident his Brazilian counterpart Philippe Coutinho can become the next in a succession of Anfield greats.
Coutinho marked his full home debut with his maiden goal for The Reds amid an impressive performance in a 5-0 win over Swansea City on Sunday as Brendan Rodgers' side moved into seventh in the Premier League
Daniel Sturridge and Coutinho have given Liverpool an added attacking dimension already since their moves in the transfer window, and Lucas is confident the latter can grow to become one of the clubs finest ever players.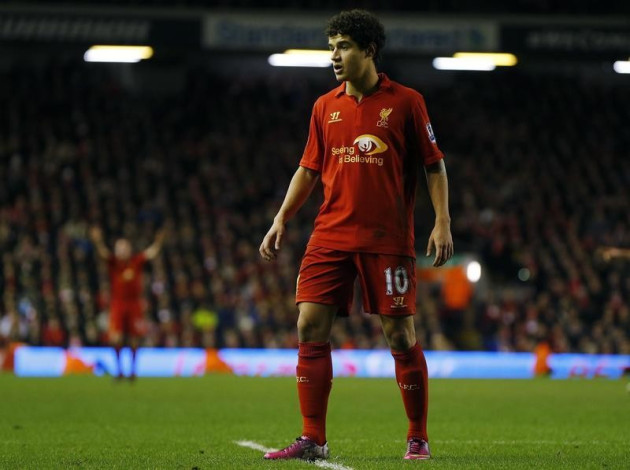 "His reputation is very high back in Brazil but he left the country very early so we couldn't really see him play in the first team," Lucas said.
"At Inter he didn't have as many chances as he thought he would have so here is a new challenge for him and he is really looking forward to it.
"He is still adapting and we were talking about the pace of the Premier League and even in the training sessions he can feel it is much quicker than Italy. He is trying to play quick because he knows he will need that tempo to be successful.
"It will take him time to settle but a goal will give him confidence and we could see there were positive things from him. Hopefully he will be a great player for now and for the future as well as he is only 20."
While the likes of Steven Gerrard, Jamie Carragher and Martin Kelly give Liverpool a local feel, their South American ranks continue to grow, with Coutinho, Lucas, Luis Suarez and Sebastian Coates making up a significant portion of the club's eclectic squad.
Fellow South American imports have taken time to adapt to the demands of English football, but Lucas is confident Coutinho will make an immediate step up at Liverpool.
""Every single young player who comes to the Premier League finds it difficult and it is going to be the same for him but we have a few South American players who can help him," he said.
"He has the skills and the ability to do well. We just need to keep positive with him and hopefully he will be okay. I really don't tell him what I went through in my early stages, I just told him how he will be successful here."