Robbie Fowler has admitted that he would love to return to Liverpool in some capacity as he looks to make a return to the game.
The 37-year-old had been playing his club football in Thailand as he made 13 aoppearances for Muangthong United, a club he also went on to manage and lead to a cup final.
Fowler has since returned to England and has been looking for a club in order to continue his playing career. However, he had also suggested that he would like to work as a coach and has declared that he would jump at the chance to join Liverpool to work with Brendan Rodgers.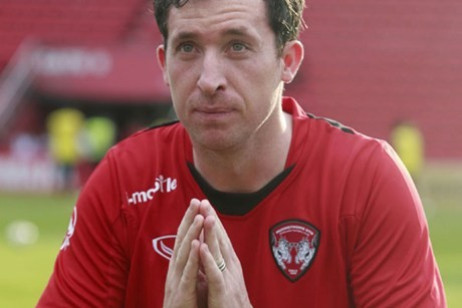 Asked whether he would like to work under Rodgers, Fowler said: "Of course I would. Liverpool is a big part of my life, it always has been and it always will be. Yes, I would love to go back but it's not as simple as me just getting my bag and my boots and just turning up. You have to be asked to do these sorts of things and if I was asked then I would definitely jump on board."
Rodgers has already appointed one former Liverpool player on his coaching staff when Mike Marsh was promoted from his role as working with the Under-18's to becoming a first team coach.
Fowler already has legendary status at Liverpool and the fans would certainly welcome him back with open arms.
The former striker has also praised the performance of Rodgers and believes that the players will respond to the early season disappointment and can have a successful season.
"First and foremost he has the backing of the players. If you speak to any of the players they all love working for him," Fowler told the BBC.
"He has had a tough start but he is doing the best he can with such a small squad. The results don't lie and they haven't been great. But if you're a manager that wants to get the best out of players then they will jump on board. If they like you they will go out and perform that little bit extra for you and I think that will be the case with Brendan."