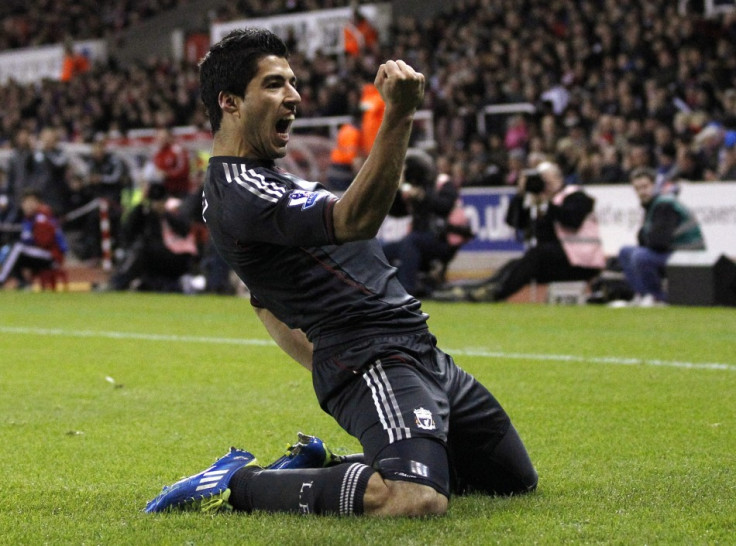 Luis Suarez has insisted that he shouldn't be compared to Lionel Messi, as the striker continues a brilliant run of form that has seen him score seven goals so far this season.
Suarez burst onto the Barclays Premier League scene after agreeing to a £22.8 million contract with Liverpool in January, and while the Uruguay international wasn't incoming manager Kenny Dalglish's most expensive signing, he has outshone £35 million man Andy Carroll to become the centre point for the club's attacking line up.
And Suarez's performances, including one against Manchester United last season which resulted in a win over the Reds' rivals, has seen him become a favourite amongst the fans, and the star has drawn comparisons to Barcelona midfielder Messi as a result.
The 24-year-old argues though that he is just on a good run of form, and only when he is able to sustain that form in the long term should he be talked about in the same context as Messi.
"Comparisons with Messi embarrass me," Suarez told El Pais.
"It also makes me smile, but I feel the comparisons are just the reaction from the Uruguay fans as everything seems to be going well at the moment.
"I am happy, but we have to look at the work of the whole team as it is not just about one player."
Liverpool are currently sixth on the table, and have set the ambitious goal of reaching the Champions League at the end of this season after the side missed out on European football in the last. The Reds will be hoping that Suarez can keep up his performances as Carroll continues to settle into Anfield.
And Suarez hasn't only been performing well for his club, but also for his country, scoring four goals in a World Cup qualifier against Chile on Friday night.
Uruguay manager Oscar Tarabez had particular singled out Suarez for praise, telling reporters after the match: "I don't understand how people can still be surprised by Suarez. This kid is achieving incredible things and it is exciting to watch him play.
"I remember he had a few problems when he first started at Nacional, then he exploded in Holland with Groningen and Ajax. He became captain in Amsterdam and now is starring for Liverpool. He's extraordinary."
Uruguayan fans appear to be as excited by Suarez's form as Liverpool fans, and after the side reached the semi-finals of the 2010 World Cup, things are looking good for the South Americans as they attempt to qualify for Brazil.