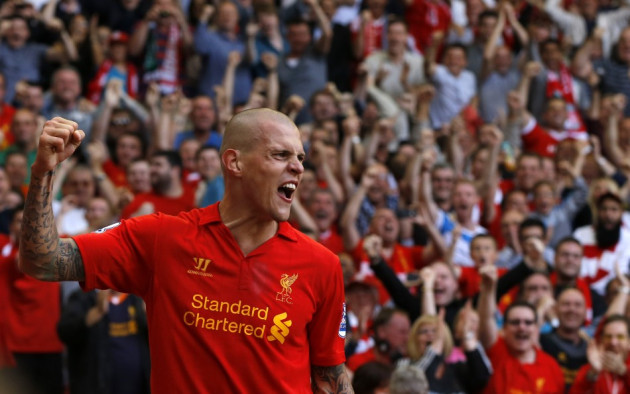 Martin Skrtel wants to break back into the Liverpool first team despite reported interest from Italian high flyers Napoli.
The Serie A side, who have qualified for the Champions League, have recently appointed Rafael Benitez as their new manager and the former Liverpool boss is said to be interested in signing Skrtel for a second time, having brought him to Merseyside back in 2008.
Skrtel lost his place in the Liverpool team during the second half of the season as Jamie Carragher became the preferred option, but the veteran defender has now left the club after retiring from football.
The Reds have already signed one central defender in Kolo Toure and there are persistent rumours that they will attempt to bring either Sporting Lisbon's Tiago Illori or Schalke centre back Kryiakos Papadopoulous to the club.
However, Skrtel is determined to prove to manager Brendan Rodgers that he deserves to regularly play alongside Daniel Agger and has promised to improve over the summer.
"It wasn't my best season and I know I made a few mistakes," Skrtel told the Liverpool Daily Post. "It could've been better and I will do my best to improve and be better in the future.
"I can always learn something new. I will try to improve my positional play and my game with the ball. Every single day I can improve something and that is what I will try to do."
Despite losing his place to Carragher, Skrtel was quick to praise the 34-year-old for helping his development during his time in England.
"I have to say he helped me a lot in my career at Liverpool," added Skrtel. "It was of benefit for me to train with players like him and Sami Hyypia - it was great for me.
"It was his decision to retire and we have to accept it and just wish him luck in his next career."