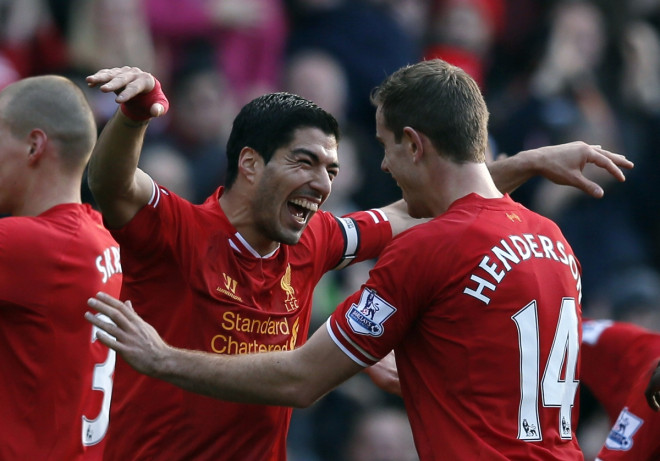 Liverpool stars Luis Suarez and Jordan Henderson must be "be protected from themselves" or risk suffering from burn-out during crucial stages of the season, according to the club's head of performance.
Henderson has been ever-present in Brendan Rodgers' starting XI this season, playing every minute of every Premier League game as he has solidified his role in the Liverpool engine room.
Despite missing the first six games of the season as he served the remainder of a 10-game ban, Suarez has remained a fixture in the Reds' side, starting and completing 18 of his 21 games since his return with those exceptions coming in the dying minutes of emphatic victories over Arsenal, Norwich and West Brom.
Although the duo have shown little sign of tiring as Liverpool have fought their way back into the title frame, the club's head of performance Glen Driscoll warns the club must be very careful to avoid fatigue setting in during the final four months of the season, particularly in the case of Suarez and Henderson who he believes would fight through exhaustion at their own detriment.
"Luis is a phenomenon. He has an unrelenting drive and mentality but also very robust intrinsically," Driscoll told the club's official website.
"But extrinsically, because of the recovery strategies we give the players, we minimise the risk of burn-out.
"If we didn't periodise the players appropriately, not giving them two days recovery, and a two day preparation phase leading into games, which is lighter, we would be at risk of flat-lining players.
"What Henderson and Suarez have in common is we believe they are two players who need protecting from themselves.
"They would take the option of not recovering if we gave it to them and work every day between games. You have to admire their work ethic and desire but experience tells us if they did this, it would be detrimental to their performance and increase the risk of injury."
Liverpool's elimination from the FA Cup at the hands of Arsenal leaves the club fighting on just one front this season. The club now sit just four points off league leaders Chelsea with 12 games left to play.