Mark Lawrenson believes that Liverpool should hold on to Stewart Downing this month, despite speculation suggesting the out of favour winger will depart as Brendan Rodgers looks to cut his wage bill.
Downing was a big name signing for Liverpool when Kenny Dalglish was given over £100 million to spend on new talent in 2011, but the England international clocked up embarrassing statistics in his first season with the club, and has been patchy in his second.
Rodgers admitted towards the end of last year that he was disappointed with Downing's lack of effort, and the 28 year old has since improved significantly since the comments, and Lawrenson believes he could prove useful in the second half of the season at least.
"Maybe Stewart Downing has changed the manager's mind a little bit," he said in the Liverpool Daily Post. "Rodgers is already a bit low on players so there seems no sense in letting Downing go.
"He can play and he's not necessarily a regular starter. Downing's never lived up to the billing, but it would be chucking the baby out with bath water if Liverpool got rid of him."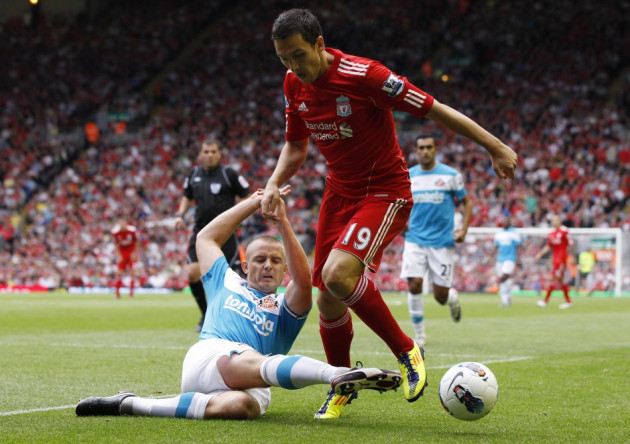 Lawrenson didn't have such kind words to say about Sebastian Coates though, with the Uruguyan youngster also proving to be a disappointing signing from the Dalglish/Damien Comolli era.
"There could be faces going out of Anfield this month," he explained. "I'm not sure Rodgers fancies Sebastian Coates, and if that's the case then perhaps it would be better to get the centre-back off the wage bill and bring somebody else in."
Lawrenson continued: "I'm not surprised Rodgers has been rotating his youngsters. Sometimes it does them good to sit on the sidelines and watch how the team plays and how a game progresses.
"Plus, being out of the team makes them that bit hungrier, similar to how they were when they made their breakthrough.
"Raheem Sterling has done brilliantly but its right he was left out at Stoke. He will come again and the break will do him good."
Liverpool sold Joe Cole to West Ham yesterday, with the midfielder making the move to the club on a free transfer in an 18 month deal. Meanwhile, Daniel Sturridge made a move to the Merseyside club at the beginning of the window, and Rodgers has hinted that he will make one more signing before the window closes.