Stewart Downing believes that Liverpool will be even stronger next season after suggesting that Brendan Rodgers will further improve the squad over the summer.
Liverpool gained a morale boosting win over Tottenham at the weekend, the first time this season they had beaten a top-six side, and are now hoping to push for a top-six finish after moving above neighbours Everton.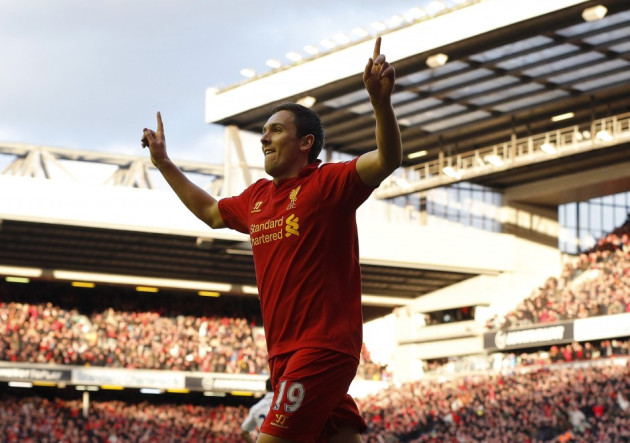 David Moyes' side do have a game in hand but there is a new-found confidence amongst the Liverpool squad after picking up three consecutive Premier League wins and scoring 12 goals in the process.
Dowing, who scored his third league goal of the season against Tottenham, says that Liverpool are merely focusing on winning as many of their remaining games as possible but admitted that he expects new faces to arrive in the summer to further improve the squad.
"We want to go into the last 10 games and win as many as possible. That's the target we set. It was a great win for us and will give us a lot of confidence going into the next games," Downing told Liverpoolfc.com.
"We're certainly good enough as a team, we've proved that and that is a big victory - beating one of our rivals, who are third in the league.
"We've got a hell of a chance. We'll just finish the season well and then next season, with a few additions, we can kick on."
Liverpool are now just two points behind Arsenal, though Arsene Wenger's side do have a game in hand, and will be looking to continue their good run in the nine remaining games of the season.
The win over Tottenham has given the club every chance of once again gaining European football and Downing believes that it was one of the most important results of the entire campaign.
"Earlier in the season we would probably have lost the game," added Downing. "But great credit to the lads, we kept going and the fans were right behind us. I'd say it was probably one of the best wins of the season."
Liverpool now have a string of away games to struggling opposition as they travel to Southampton, Aston Villa and Reading over the course of the next month. With a home game against West Ham also during this period, the Reds will be hoping they can continue their good run of form and gain some ground on the teams above them.