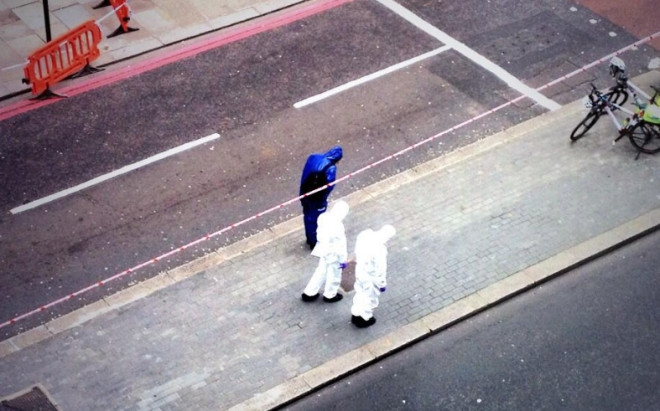 Three men have been stabbed in a gang fight in the heart of the City of London.
Office workers scattered in fright as violence exploded on Bishopsgate this lunchtime, in the shadow of the offices of corporate giants sucha as RBS bank.
Three men were floored by knife wounds in scenes of chaos which brought police running to the scene at around 2pm. Their injuries were not believed to be life-threatening. Officers made three arrests in connection with the brawl.
London police officer Sgt Richard Berns took to Twitter to warn pedestrians: "Primrose Street EC2 is closed due to a stabbing. Please avoid the area. It's just north of Liverpool Street station in the City."
It meant usually busy streets next to Liverpool Street train station were deserted at evening rush-hour as police bought down an exclusion zone. Bishopsgate was shut from Primrose Street to Brushfield Street – which was shut in both directions.
A City of London spokesman was unable to say when the roads around Liverpool Street would reopen. It meant commuters faced disruption as they tried to catch trains home from work.
Several eyewitness accounts were being investigated by police.
A London Ambulance spokesman said: "We were called to reports of a stabbing at 2pm. We sent three ambulance crews and four single responders. Three men were taken to hospital."