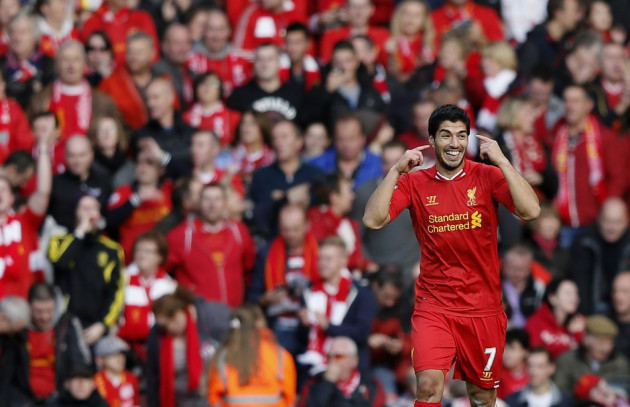 Jamie Redknapp believes that Liverpool currently boast the hottest strike force in the Premier League after Daniel Sturridge and Luis Suarez inspired the Merseyside club to a 4-1 win over West Bromwich Albion.
Suarez scored a stunning hat-trick, his first at Anfield, while Sturridge produced a delicious chip that left West Brom goalkeeper Boaz Myhill with absolutely no chance.
The duo have scored ten goal in just the four games in which they have played together this season, an ominous record that vastly outshines Manchester United's own deadly duo of Wayne Rooney and Robin van Persie.
United boss David Moyes has been somehat reliant on his own in-form strike paretnrship this season, with Rooney and Van Persie helping the side claim a dramatic 3-2 over Stoke, having twice trailed Mark Hughes' side.
The Manchester United pair have played together seven times this season and have scored eight goals, leading Alan Hansen to declare that they were the best partnership in the Premier League.
However, former Liverpool midfielder Redknapp firmly believes that it is Brendan Rodgers who has the most feared front line in England.
"The question is, which is the hottest pairing: Luis Suarez and Daniel Sturridge... or Wayne Rooney and Robin van Persie?" Redknapp wrote in the Daily Mail.
"We can have a different opinion, but the stats give the best indication (so I can't be accused of bias). Right now, it's the Liverpool pairing.
"They are no Keegan-Toshack or Dalglish-Rush combination. On the face of it, their SAS double act doesn't seem a marriage made in heaven. They are individuals relying on instinct, but it seems to be working. Now can they keep it up?
"On Saturday, United scraped a 3-2 win against Stoke and their front two seem to be the only players firing with any kind of form. Where would David Moyes be without them?
"But, for now, they are still second best to Liverpool's lively duo, who have more shots per game, more chances and more passes. And, of course, more goals."
Liverpool's two in-form strikers will certainly be put to the test next weekend when they face league leaders Arsenal at the Emirates.
The Gunners have look in supreme form this season but there have been some doubts raised over their defence and Suarez and Sturridge will be eager to pounce on any mistake.