Liverpool manager Brendan Rodgers has reiterated that the clubs priority is to bring in another striker before the transfer window closes at 1pm BST on Friday.
The former Swansea boss has already had a busy day sanctioning the sale of Charlie Adam to Stoke, and allowing Andy Carroll to move on-loan to West Ham, while Jay Spearing will play his football at Bolton for the rest of the season.
After allowing Carroll to leave, Rodgers admitted that he it is now his priority to try and sign another striker before the transfer window closes.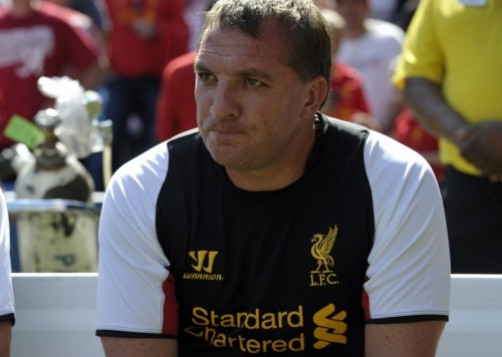 "We're hopeful. There are obviously a lot of people upstairs who are doing a lot of great work and working very, very hard. Let's hope by the time it shuts later on that we've got some reinforcements," Rodgers told the clubs official website.
"There are a number of players we're enquiring about. There is no doubt we need to add goals to the team. That was always an objective when I first came in. If we can get recognised goalscorers to come in, that's the objective.
"I don't want to, out of respect for the other clubs and players, sit and go through every single name that has been linked with Liverpool, or this would be the longest press conference in the world. There'll be hopefully one or two coming in.
"Lots of names that have been thrown out there, unfortunately have been thrown out there for other reasons than us having the money and resources to get them in, which is the brutal honesty of it."
One forward linked with a move to Liverpool is Holland international Klaas Jan Huntelaar, but Rodgers made it clear he would not be arriving.
Rodgers did also reveal that he did not expect anyone else to leave the club, despite suggestions Daniel Pacheco could be sold.
"I don't believe many more will leave, if any," confirmed Rodgers, before turning his attention to Pacheco.
"Daniel is one I've already spoken to. He is a young player who has been here for a number of years and now he needs to go out and play, so there is a possibility that Daniel will go out either on loan or on a permanent deal."