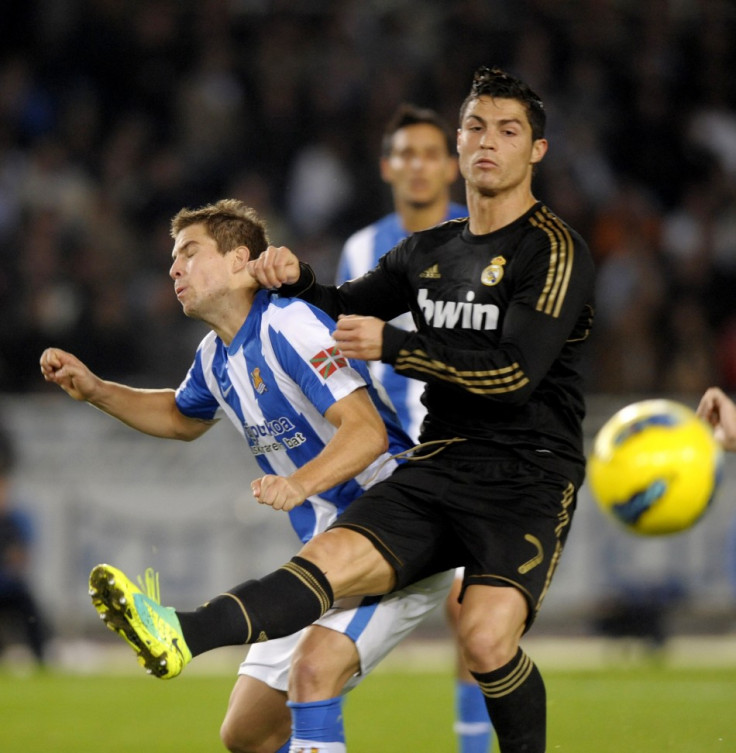 Liverpool target Inigo Martinez has admitted to being flattered by interest from the English club this season, but the Spaniard insists he is only thinking about his future with Real Sociedad.
Martinez has made 12 appearances so far this season for the Sociedad senior side, after moving through the youth ranks at the club, and the centre back has attracted attention from numerous clubs in Europe as a result.
According to Sky Sports, Liverpool have sent scouts for the 20 year old, and while the Merseyside club are continuing to keep tabs on the youngster, he claims he just wants to do well for his club this season.
"I am happy in San Sebastian," he said.
"It is normal that I am happy with this news, but those things depend on the club.
"Now my head is only focused on helping Real for us to make sure we are not in a dangerous position in the table."
Liverpool are on the lookout for defenders after Lucas Leiva's season was ended last week, and while Martinez is a not a holding midfielder, Kenny Dalglish is hoping to continue to bolster his back line to make up for the Brazilian's absence, which will no doubt hurt the Reds greatly.
Martinez's young age would also suit Liverpool's transfer policy, with Dalglish aiming for younger players who can offer the club long term success. His purchases of Andy Carroll, Jordan Henderson and Sebastian Coates during the year are examples of this.
Said to be worth around €30 million, Martinez's contract with Sociedad runs out in 2015. And a source told the sporting website that they're aware of Liverpool sending scouts for the starlet, as well as other clubs, and a move might be possible next June.
"We know about the presence of scouts, but our position is clear - the subject of a sale will not even be looked at until the summer," the source said.
January is set to be a big month for Dalglish, with the Liverpool manager no stranger to spending big money on the right players. He was able to almost balance the books last January, when he sold Fernando Torres for £50 million and bought Luis Suarez and Andy Carroll for just over that amount combined, which was a record in British transfer history.
And with Liverpool currently sixth in the Premier League table, if the side want to push for Champions League qualification and compete alongside Manchester United and Manchester City, fresh faces might be just the ticket as injuries start to build and the season hits the business end.