West Ham United owners are reportedly in talks with the club's legal representatives to ensure that striker Andy Carroll, who is on a loan from Liverpool, remains at Upton Park till next summer.
The England international joined the Hammers on a season-long loan on the deadline day. However, the Reds failed to replace the 23-year-old before the transfer window closed and there were rumours that the Anfield chiefs are now considering recalling the player in January.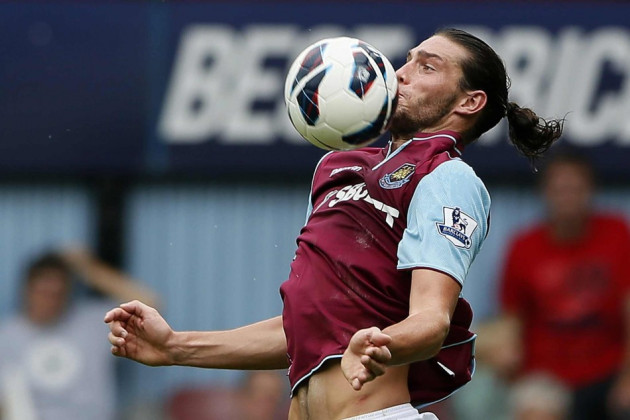 According to The Sun, West Ham bosses are adamant that Carroll remains in east London till the end of the season and are confident that they have a watertight deal that enables them to keep the player. The Hammers also believe that they have the first-option to buy the forward if they want, for a previously agreed fee, thought to be around £18m.
"We have a deal which allows us to buy him tomorrow at around £17-18m if we chose to. We are convinced Andy cannot be sold to any other club. We have him on a year's loan with the first option to buy but have called in the legal eagles to check everything," the report quoted a West Ham source as saying.
However, a Liverpool source claims that the club have the option to recall Carroll from loan in January.
"No, that is not the case. Liverpool have loaned Andy Carroll for the season, but with an option to recall him in January," ESPN quoted a Reds source as saying.
Carroll, who joined Liverpool for £35m from Newcastle United in January 2011, has scored 11 goals in 58 appearances in all competitions.
Rodgers is desperate to fill the void left by Carroll and is considering a move for one of the free agents, which include former Reds strikers Michael Owen and Emile Heskey, according to the Daily Mail.
Meanwhile, Owen has stated that he would announce which club he will be signing for on 5 September.
The 32-year-old has been without a club since being released by Manchester United at the end of last season. The former Real Madrid star has now tweeted a picture of his boots and shin pads accompanied by the caption: "The tools of my trade are stacked and ready to go!"
And when Marseille midfielder Joey Barton asked him, "Where u off mate?", Owen replied: "I will tell you on Wednesday!"