Steven Gerrard claims Liverpool need to qualify for next season's Champions League in order to keep talismanic striker Luis Suarez at Anfield. The 25-year-old Uruguayan has been in inspirational form this season, with 16 goals from 22 Premier League appearances and has single-handedly led the club's hunt for European football next season.
Liverpool trail Tottenham and Everton in the race for Champions League and UEFA Europa League football by seven and three points respectively.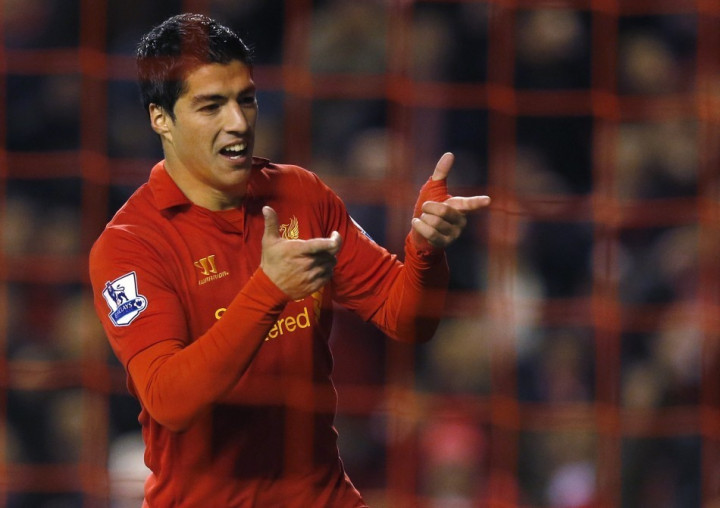 "I don't know. I know he's signed a long-term contract. I know he's comfortable and he's happy here, but I think that's a question for Luis to answer. Only he knows what his ambitions and dreams are. Hopefully we can put a fight on from now until the end of the season, to finish fourth, and we make the decision for him," the 32-year-old club captain said, adding, "But Luis Suarez deserves to be in the Champions League, and I think everyone has to admit that.
The fear of losing Suarez aside, Gerrard also spoke out on recent comments made by the South American. The former Ajax forward admitted to diving in a league match against Stoke City, drawing severe flak from a number of commentators, supporters and even his manager, Brendan Rodgers.
"Luis has been really open to it and admitted to it in the interview. He'll learn from it. People want to talk about the things he does wrong in the game, but for me, I just want to praise him and how lucky we are to have him at Liverpool, and hopefully we can keep him for a long time," the England international said.
Gerrard's fears of losing Suarez echo those made by Rodgers and recent speculation linking him to Bayern Munich will only heighten fears among Liverpool fans that their leading goal scorer may be tempted away in the summer, particularly since former Barcelona manager Pep Guardiola will take charge at the Allianz Arena for next year.