Everton midfielder James McCarthy revealed that he rejected a chance to join the Toffees arch rivals, Liverpool while he was a teenager. The 22-year-old had a trial with the Reds while with Scottish side Hamilton and has no regrets of rejecting an offer to join the Anfield club.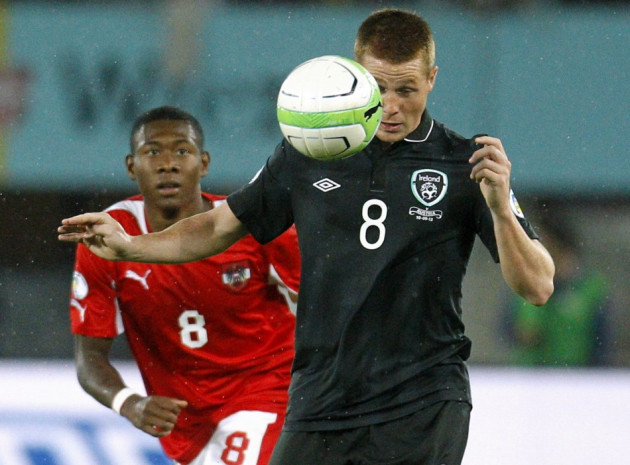 "There was talk of it (Liverpool). Obviously I went down for a week's trial. It wasn't to be, I was too young at the time. I didn't want to move away from home. To be honest, the way things have worked out, I am happy," McCarthy told BT Sport.
The Republic of Ireland international completed his move to Everton from Wigan Athletic on the deadline day, along with the arrival of Gareth Barry and Romelu Lukaku. McCarthy admitted to have a tense moment in the final hour of the transfer window as he wanted to join Everton, once he was made aware of their interest.
"It was very hectic. At times it goes through your head that it might not happen. As time went on, it got to 10.30 at night and I was thinking to myself, 'Is is going to happen or not?' Thankfully it did and I'm just delighted to be at such a great club. It is a great place to be. Since I heard they were interested I wanted to come here," he added.
McCarthy completed his switch to Everton for a fee of £12.5m, according to the Daily Mail. The move saw the former Wigan midfielder rejoin with Roberto Martinez at Goodison Park. He has vowed to prove his worth at his new club, while he targets a regular place in the starting lineup.
"I have got real competition at the club. There are a lot of big names here. If I need to bide my time, I will bide my time. It is great to be here with him and hopefully I can stamp my authority on the team and get as many starts under my belt as possible," the midfielder said.
"It is a price tag and one I need to deal with. I am looking forward to trying to prove why I am here. It is not going to be easy, we have got a lot of competition for places. I am going to give it my best shot and hopefully I can do well," McCarthy concluded.