Liverpool and Brendan Rodgers continue their summer of rebuilding with a bid for Greek international Kyriakos Papadopoulos. The Metro believes Anfield chiefs have offered Bundesliga club Schalke 04 £12m for the 21-year-old.
Unfortunately for Liverpool fans, the German club are likely to be unwilling to negotiate at that fee, with reports the Greek has a £19m release clause.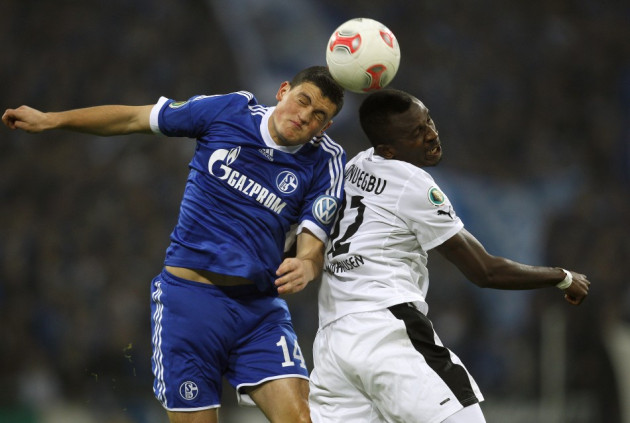 Worse still, Rodgers will have to move fast to sign the man he hopes will replace club veteran and icon Jamie Carragher in the back four, after reports linked Bundesliga champions Bayern Munich and Spanish club Atlético Madrid to the versatile defender. And that may not be all. In May, the Liverpool Echo linked Manchester City and Chelsea with the player as well.
Both Bayern and Atlético (and City and Chelsea as well) have the finances needed to match that release clause and all four clubs can offer the player Champions League football, which could help convince Papadopoulos to leave the Royal Blues. The one good news for Rodgers is the defender is understood to prefer a move to the Premier League.
The Greek is contracted to the Veltins-Arena till 2016.
Rodgers has already signed one centre-back in Ivory Coast's Kolo Toure. However, the former Arsenal man, who joins from Manchester City on a free, is 32 years old and cannot be considered a long-term option, which Papadopoulos definitely is.
The Reds' fans should be a little concerned though. For all his talent, Papadopoulos has a growing reputation for a fiery temper. The story of an argument with national team boss Fernando Santos' over his exclusion from the opening game of the country's Euro 2012 campaign is now the stuff of legends.
Philipp Selldorf, a correspondent with Süddeutsche Zeitung, a Munich newspaper, was quoted in a Guardian blog as saying, "Papa was only 18 when he came to Schalke. The supporters love Papa because of his passion. They can see he is always fighting. They admire his bravery but also worry that he might be a little mad. This is something the management also worry about - if Schalke are losing at half-time they find it hard to get through to Papa in the dressing room."