A Demanding Father: Manchester City Boss Releases Son Andrea Mancini and Targets Reds' Defender
Manchester City manager Roberto Mancini has dismissed claims he is targetting AC Milan's Brazilian defender Thiago Silva but reports suggest Premier League champions could be interested in Liverpool's Martin Skrtel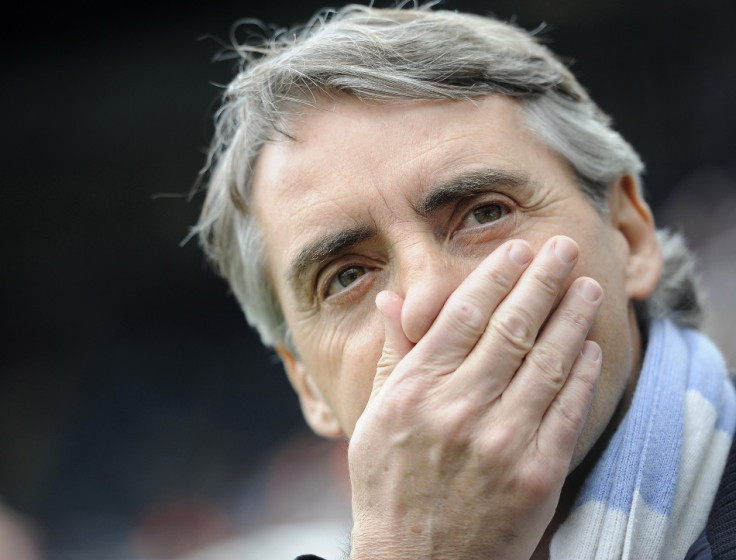 Professional football can be a hard taskmaster and no one will know that more, right now, than the father-son duo of Roberto and Andrea Mancini. The Manchester City manager has, according to a report in The Sun, released his son, Andrea, from the club after he failed to impress over the last two years.
The Premier League champions signed Andrea in 2010 after he was released by Italian club Bologna. However, despite having his father to help him on, the youngster has made only one first team appearance since he arrived at the Etihad and spent last November on loan to Oldham Athletic where, once again, he managed only one appearance. The lack of performance, it seems, has left Mancini little option but to release his 19 year old boy.
Meanwhile, Mancini and Paulo Tonietto have both denied contacting each other over the possible transfer of AC Milan's Brazilian centre back Thiago Silva. The Sun reported Mancini was in Milan earlier in the week, where he was believed to have had a meeting with Milan's vice president, Adriano Galliani. However, the Premier League title winner has dismissed the speculation.
"I went and was congratulated for winning the title," he explained, adding it was purely a courtesy visit.
"Neither I nor Thiago have had contacts with Manchester City or Barcelona. His preference is certainly Milan. Only the club executives of Milan can decide whether to sell the player," Tonietto explained. Thiago Silva, 27, is contracted to the Rossoneri until 2016.
City's search for a centre back, however, seems more real as far as Liverpool's Martin Skrtel is concerned. According to a report on Goal.com, City and AC Milan, in addition to Italian champions Juventus, are all interested in the Slovakian international, who is reportedly unhappy with life at Anfield. Liverpool have placed a £20mn price tag on the player's head, a price that may not deter either Italian club and will certainly not trouble City.
"It will take an awful lot of money to sign Skrtel this summer," a source told Goal.com, "He is a fantastic defender and Liverpool don't want to be considered a club that sells its best players."
The player's contract expires in 2014 but his agent, Karol Csonto, reiterated his client's desire to sit down for talks with club officials and discuss both parties' futures, particularly since there is confusion over who will be the club's manager for next season.
"Some changes have been made at the club and the player wants to know what the aims and ambitions are," Csonto said, "We want to discuss with Liverpool what they want and, of course, we will discuss the issue of Martin's new contract."
Skrtel himself, meanwhile, is being diplomatic about the affair.
'The only thing I can say is it is not true because I have never said anything like I want to leave the club or handed in a transfer request. I have a contract at Liverpool and I am happy here at the club. I haven't thought about leaving the club," he is believed to have said, in an interview on the club's official Web site.
© Copyright IBTimes 2023. All rights reserved.